How about a little sparkle to bring in the New Year? For that extra glow, try making these Shimmer Body Butter Bars that leave skin soft, moisturised with a light shimmer that sparkles in the light.
Recipe
Heated Phase
100g Shea Butter
65g Almond Oil
30g Candelilla Wax
Cool Down
2g Gold Shimmer Mica Powder
2g Vitamin E Oil
2g Essential Oils (Orange & Vanilla Essential Oils
Method
Measure out the heated phase ingredients: Shea Butter, Almond Oil & Candelilla Wax.
In a heat proof bowl, melt over low heat until no solids remain.
Once cooled slightly but still completely liquid, add the cool down ingredients: Vitamin E Oil, Gold Powder and any Essential Oils
Mix thoroughly until the powders are evenly distributed. Pour into individual-sized silicone moulds.
Allow Shimmer Body Butter Bars to set in the fridge for up to 24 hours.
To store wrap in parchment paper and place in an airtight container.
See the interactive shimmer body butter bars formula calculator to customise and scale this recipe.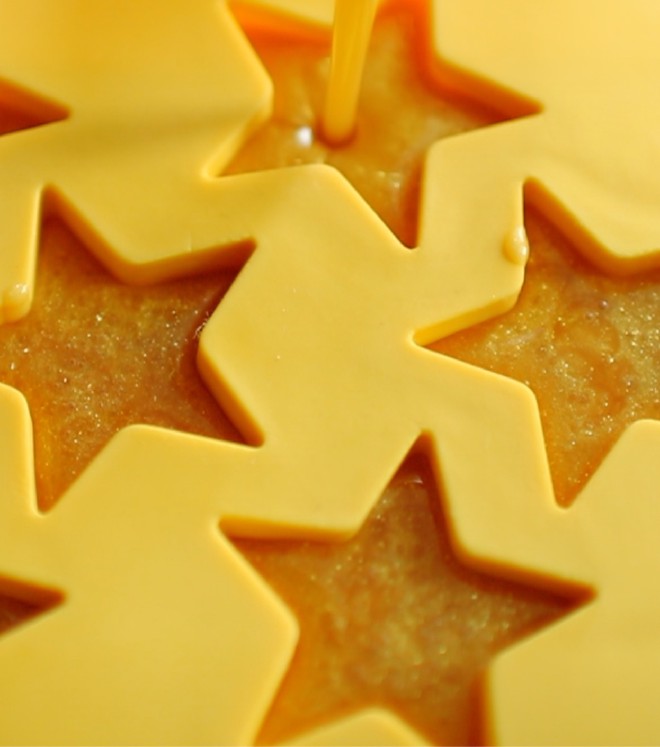 Effortlessly melting into your skin leaving behind a wonderful shimmer that glistens in the light - these shimmer bars are a fun indulgence that make for great gifts during the festive seasons. Each bar provides the long-lasting moisture that you've come to expect from a body butter. The Shea butter, Almond oil and Candelilla wax help to seal in moisture, giving you hours of protection during the colder months. And for an added glow, the pearlescent and sparkle mica powders make for a truly special experience.
Mica Powders
Mica powders are used to give these bars a natural shimmer. The rich glistening gold brings these bars to life and makes for a festive twist on traditional body butters.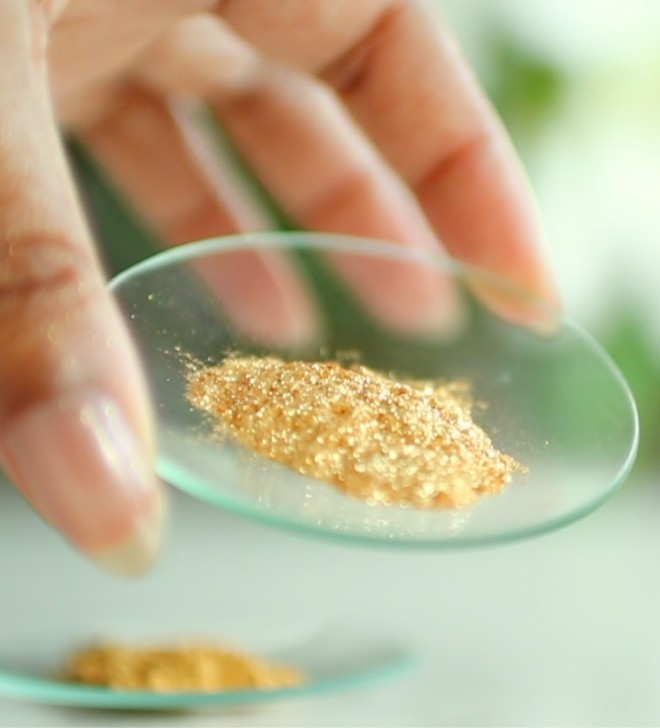 How to Store & Package Shimmer Body Butter Bars
Theses bars are formulated to melt on contact with the skin and therefore have a low melting point than both the Body Butter Scrub Bars and Lotion Bars in my previous tutorials. They are still solid at room temperature, but depending on your climate they might melt in warmer environments.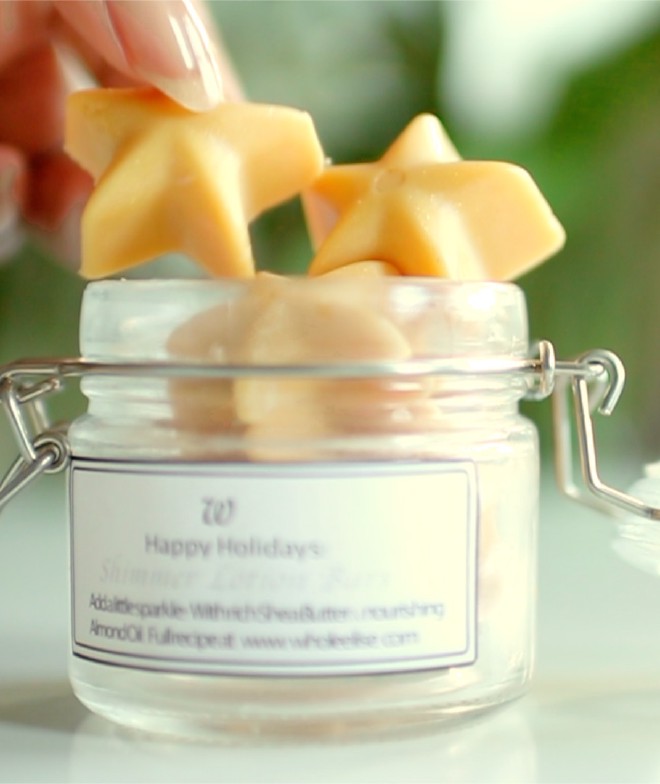 To avoid this, I recommend wrapping each individual bar in parchment paper before storing away from direct sunlight. This will make it harder for heat to penetrate the bars, and reduce the likelihood of melting through contact.
If you intend to make this as a gift, refrigerating up to 24 hours prior to posting should also limit the potential for the bars to melt. Again I would wrap each individual bar in either parchment or baking paper, then store in an airtight container to prevent the bars sticking together.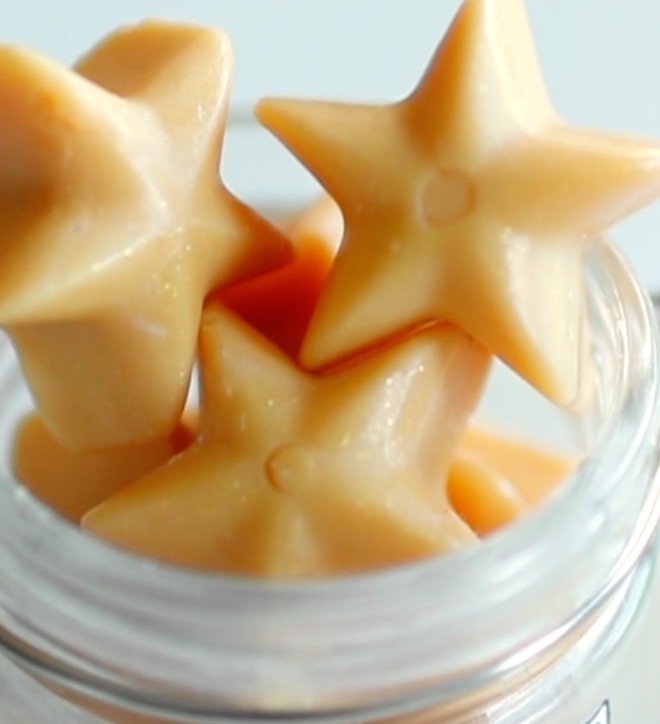 Substitutions & Customisation
All the ingredients in this recipe are completely customisable to create unique and personalised gifts. To keep with the festive theme I used star-shaped moulds, and gold sparkle powders however these shimmer bars will work for a variety of occasions. Birthdays, valentine's gift and especially during the summer time, this is a great recipe to have in your arsenal. Don't have all the ingredients? No sweat! You can easily substitute any of the core ingredients for what you have available at home. See below for suggestions.
Shea Butter is a nutrient-rich, soft butter that provides intense moisture and soothes skin. For easy substitutions, I'd recommend butters with a similar texture such as mango or cocoa butter so that you don't need to alter the other ingredients.
Almond Oil is an affordable all-around oil that is suitable for most skin types. You can also use any other oil you prefer (jojoba, grapeseed, olive oil etc.). If using coconut oil, you will have to alter the amount of wax to avoid firmer-set bars.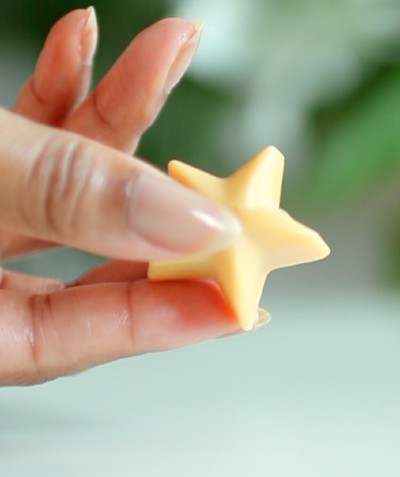 Candelilla wax is a popular vegan alternative to beeswax. This can be substituted with beeswax or any other alternative such as Carnauba.
Mica powders provide a wonderful sparkle and a rich golden hue. They come in a wide variety of colour so you can use whichever variety you prefer, or leave them out altogether for a traditional body butter bar.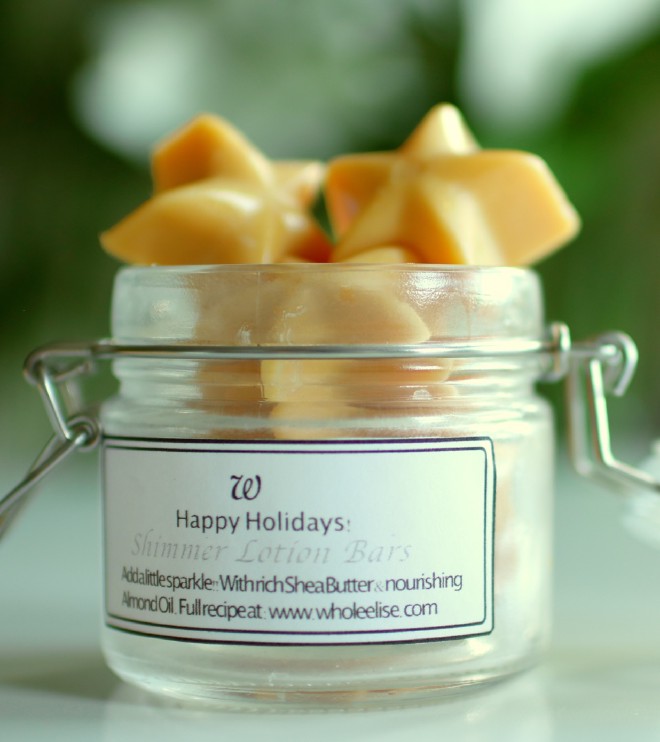 Return to top ↑