Recipe
Heated Phase
100g Cocoa Butter
62g MCT Oil (Medium-Chain Triglycerides)
36g Beeswax
Cool Down
0.5g - 1g Brown Mica Powder or Food Colouring (optional but recommended)
1g Ginger Essential Oil
1g Cinnamon Essential Oil (optional but recommended)
1g Vitamin E Oil (optional but recommended)
Method
Measure out heated phase ingredients: Cocoa Butter, Beeswax and Sunflower Oil in a heat proof container.
Melt over gentle heat until liquid, ideally using a double boiler or bain-marie.
Remove from heat and allow to cool slightly before adding in cool down ingredients: Brown colouring of choice, Essential oils and Vitamin E Oil as an optional antioxidant.
Mix thoroughly then immediately pour into gingerbread men shaped silicone moulds.
Transfer to the fridge and let set for a minimum of 12 hours.
Once set, remove bars from moulds and enjoy!
This recipe makes 200g of Gingerbread Butter Bars, which can make 4 - 8 gingerbread bars depending on the size of your mould. The butter bars will last for approximately 6 - 12 months. See the interactive formula to customise this recipe.
DIY Gingerbread Butter Bars
Why should cooking have all the fun? The spicy, comforting, iconic gingerbread works just as well as in moisturiser form! And the best thing - you should have everything you need either in your cupboard or just a trip to the supermarket away!
First off, I've designed this series of last minute festive DIYs to be just that - last minute! So the Candy Cane Body Butter, Peppermint Lip Scrub and of course these Gingerbread Butter Bars are all made to be as flexible as possible with the ingredients you have access to!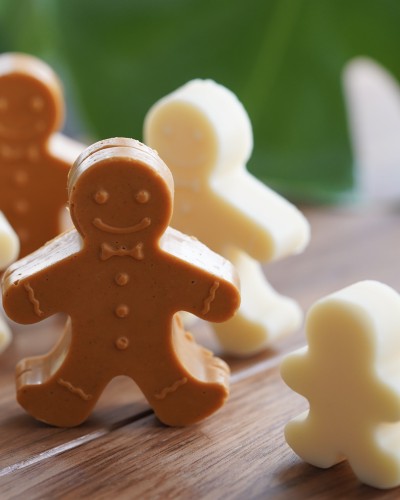 How to substitute ingredients in DIY butter bars
Feel free to substitute the cocoa butter with whatever vegetable butter you have on hand, i.e. shea butter, mango butter, even more exotic butters such as mafura and cupuaçu butter. This will result in a firmer or most likely softer gingerbread butter bar, so you may need to lower the amount of oil to compensate.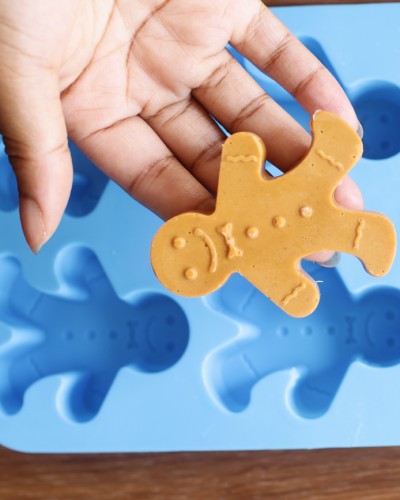 I'd recommend making a test batch to ensure you get the texture you like! The same is true for using wax. Whilst it's possible to make these gingerbread butter bars with just oil and butter, they'll be incredibly quick to melt so the wax is an important element to ensure they hold up. For vegan bars, candelilla wax is probably the most widely available alternative to beeswax, however, soy, carnauba and even hydrogenated waxes such as almond wax will also work. Again, you may need to alter the amount of oil to ensure your bars aren't too soft or hard.
This recipe uses MCT oil - which is virtually identical to caprylic/capric triglyceride. However, just about any oil will do! A neutral cooking oil like sunflower oil is a great natural moisturiser and you'll likely already have a big bottle of it in your kitchen cabinet! As for the colour, I'd recommend using pigment powders or mica. But in a pinch you can actually use oil-based food colouring (the type used to colour fondant icing). Less is more with this so I'd recommend only using a couple drops.
These gingerbread body butter bars are perfect to share amongst family and friends, however for a more professional formula that will stand up to shipping - I'd highly recommend the Gingerbread Lotion Bars from Good Formulations!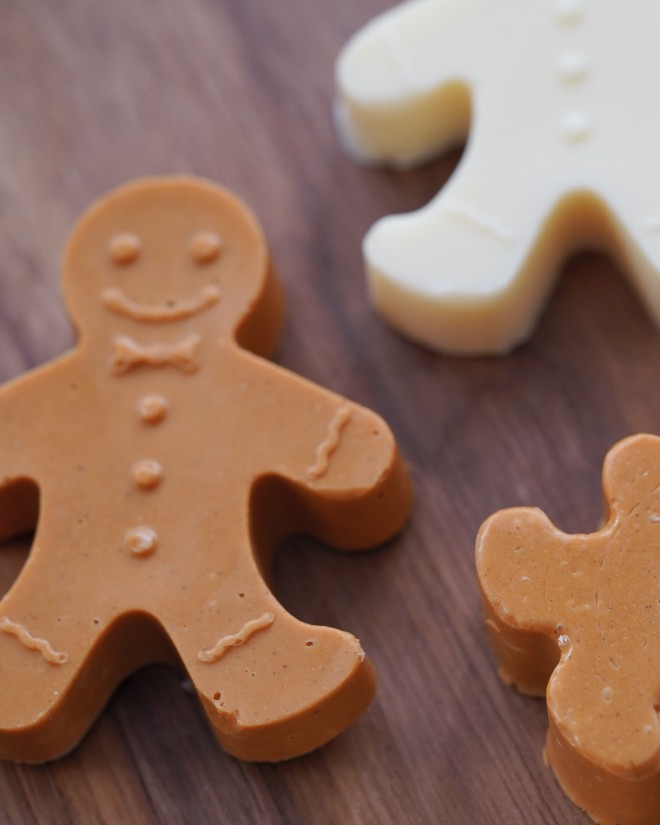 Return to top ↑