Recipe Guidelines
60g - 80g Sugar
20g - 40g Sunflower Oil or MCT Oil (Medium-Chain Triglycerides)
0g - 10g Melted Cocoa Butter (Optional)
1g - 2g Peppermint Essential Oil
0g - 1g Mint Mica Powder or oil-based Food Colouring (optional but recommended)
Method
Measure out Sugar and Sunflower Oil and mix together. To adjust the consistency either add more oil or more sugar until you have your desired texture. For a creamier scrub, you can optionally add in a melted butter before combing with the sugar.
Add in Peppermint Essential Oil along with your choice blue / green colouring then mix and pour into a small container.
Apply a small amount to damp lips in a circular motion to gently exfoliate, rinse off and enjoy soft, smooth lips.
This recipe makes 100g of Peppermint Lip Scrub, and will last for approximately 6 months. See the interactive formula to customise this recipe.
DIY Peppermint Lip Scrub
Exfoliating scrubs are one of the easiest products you can make at home - all you need is an exfoliant and an oil. It's that simple! So instead of a bloated post over-complicating DIY scrubs, I thought I would answer some of the most common questions.
What sugar should you use in sugar scrubs?
Any sugar you like - brown, white, granulated, caster, coconut sugar - they will all make for great exfoliants in your scrub. You may have noticed a preference for white sugar in a lot of DIY, homemade and store bought scrubs, this is typically more of an aesthetic choice, rather than for practical reasons. White sugar scrubs are easier to add colour to as they don't tint the pigments in the same way that darker or unrefined sugar might.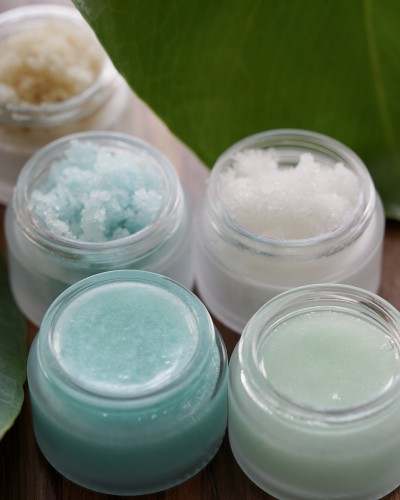 The main difference to note between different types of sugar is their crystal size, larger granules of sugar will create coarser scrubs - which may not be suitable for the face or delicate areas of skin. Conversely, finer sugar might not provide the level of exfoliation you desire, so it's a good idea to keep this in mind when you choose which sugar to use.
What exfoliants can you use in homemade scrubs?
Pretty much anything you like. Popular choices are sugar (of course), salt, coffee grounds, oats, ground nuts or shells. This list goes on! The important factor in choosing an emollient is making sure that it isn't too abrasive for the area of skin you want to apply it to. Sugar and salt are the most common in homemade scrubs as, because they are water soluble, it is easier to prevent over-exfoliation as they dissolve in water. However, with more abrasive exfoliants such as coffee, seeds and ground shells they are better to use on the body rather than softer areas of skin (like the face or lips). To see how to use non-soluble exfoliants in sugar scrubs, check out my foaming whipped sugar scrub tutorial.
The best oils for homemade sugar scrubs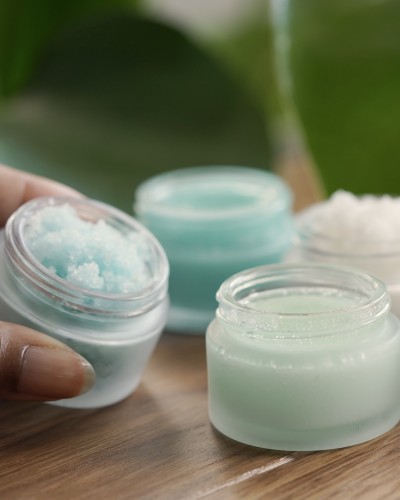 This is almost a trick question as for the most part, the type of oil is immaterial to the overall functioning of the scrub. The main purpose of oil is to help spread the scrub across the surface of the skin, provide a layer of cushioning for more gentle exfoliation, and to moisturise and soften the skin. Any vegetable oil can do this, but as exfoliating scrubs are washed off - I'd recommend using more affordable carrier oils such as
sunflower
,
MCT Oil
, or olive oil, rather than more expensive cosmetics oils. But the choice is completely up to you!
Whilst sugar scrubs are incredibly easy to make at home, more complex sugar scrubs that are scoopable and easy to rinse out can be a little more difficult to master. This Plumping Peppermint Lip Scrub formula is a great introduction to making for interesting commercial scrubs.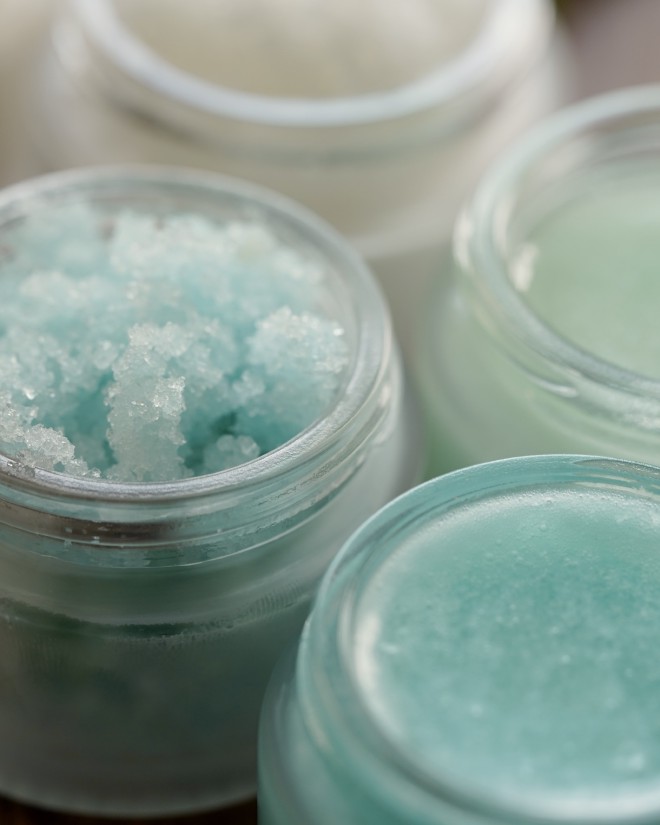 Return to top ↑