Ingredients
Water Phase
36g Sodium Cocoyl Isethionate (SCI)
20g Distilled Water
18g Cocamidopropyl Betaine
10g Sorbital
6g Glycerine
Oil Phase
10g Mango Butter
14g Fractionated Coconut Oil
10g Emulsifying Wax
6g Stearic Acid
Cool Down 1:
2g Preservative Eco
2g Vitamin E Oil
2g Essential Oils (optional - but highly recommended)
1g Mica Powder (optional)
Cool Down 2:
60g Granulated Sugar (exfoliant)
10g Poppy Seeds (exfoliant)
Method
In a heat proof container, measure out your water phase ingredients starting with the SCI (wearing mask), then adding Distilled Water, Cocamidopropyl Betaine, Sorbital and Glycerine. Mix until combined
Measure out oil phase ingredients: Mango Butter, Fractionated Coconut Oil, Emulsifying Wax, and Stearic Acid in another heat proof container
Gently melt the both phases over a low heat. Once both are molten, pour the oil phase into the water phase and whisk immediately. The mixture will thicken rapidly and have a solid gel-like consistency
After the initial mix, allow the mixture to cool until it has firmed up and resembles more of an opaque, butter-like consistency
Move on to the first cool down phase, measure out: Preservative, Antioxidant and any optional Essential Oil and or Mica Powders.
Use an electric whisk to whip the base mixture until light an airy, resembling whipped cream
When you've reached your desired texture, add the final cool down ingredients: Granulated Sugar and Poppy Seeds, and mix until evenly distributed
Store your sugar scrub in a tub style container for ease of use, the mixture will continue to firm up over the next 24 hours
This makes 200g of foaming whipped sugar scrub and will last for approximately 3 months. See the foaming whipped sugar scrub formula calculator to adjust amounts.
How to make a foaming sugar scrub?
Foaming scrubs combine emollients, exfoliants and surfactants - that's a lot of "ants!"
You can use a variety of different surfactants - and we've explored several while making shampoos, face cleanser and body washes, but for foaming scrubs I'd recommend using a powdered surfactant, SCI.
Sodium cocoyl isethionate (SCI) or "baby foam" as it's endearingly named, is an incredibly mild solid cleanser that is derived from coconut oil and isoethionic acid.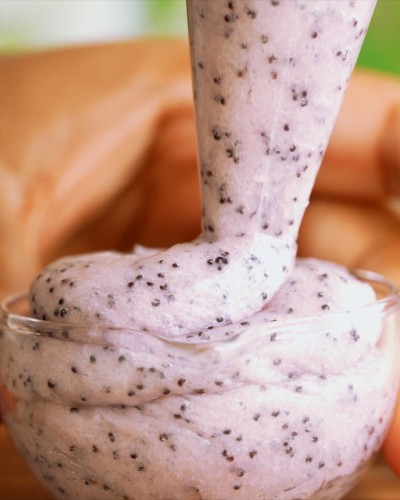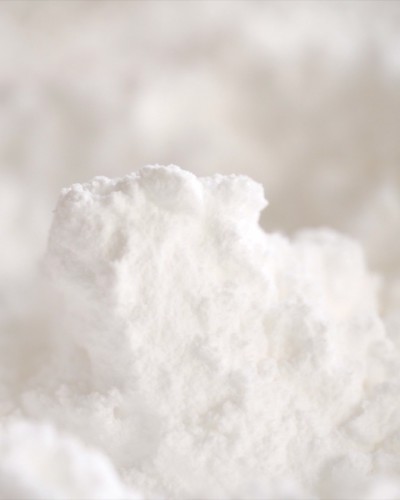 At best SCI can be considered "naturally-derived" but those claims are based solely on it's connection to coconut oil rather than it being inherently natural. However, it is one of those ingredients that I think is worth adding to your arsenal as it opens up a world of new products like shampoo bars, foaming scrubs and co-wash recipes. SCI is renown for its exceptional mildness, producing a rich, velvety lather that does not dehydrate your skin or disturb its moisture barrier. It's gentle enough to use on babies (hence the nickname "baby foam") and as it comes in a powder, it's ideal to use in solid products like our foaming whipped sugar scrubs.
This gives our sugar scrub rich, foaming properties that not only aid in exfoliation, but gently cleanses the skin. We can also use nutrient rich butters, without it being difficult to remove as the cleanser allows the scrub to be easily washed away.
Please note that SCI is an extremely fine powder that disperses throughout the air when poured. To avoid breathing the surfactant in, please where a mask and try to use in a well ventilated area.
How to make a foaming whipped sugar scrub
The "whipped" element of this foaming whipped sugar scrub, needs a solid base that can be aerated to produce a light and spreadable scrub. For this, I'm combining moisturising mango butter and fractionated coconut oil, with thickening emollients like BTMS and stearic acid.
By limiting the amount of liquids in this recipe, you can create a luxurious melt on the skin foaming sugar scrub. This foaming whipped sugar scrub provides cushioned exfoliation, so your skin is left moisturised but it's light enough to not impede the primary goal of this scrub: exfoliation.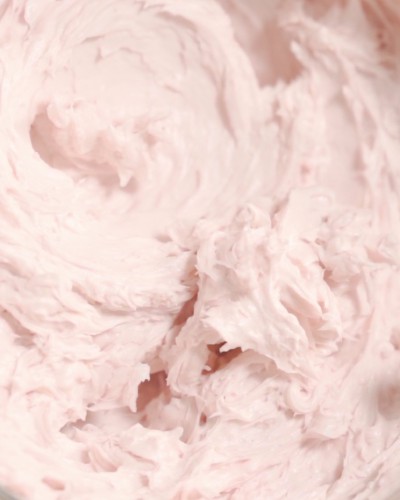 To get the most out of this whipped scrub, it's important to use light emollients that won't weigh down the skin. You can substitute the BTMS with another emulsifier, and also use a fatty alcohol instead of stearic acid, but it's worth noting that the scrub might not spread or foam as readily.
Soluble and insoluble exfoliants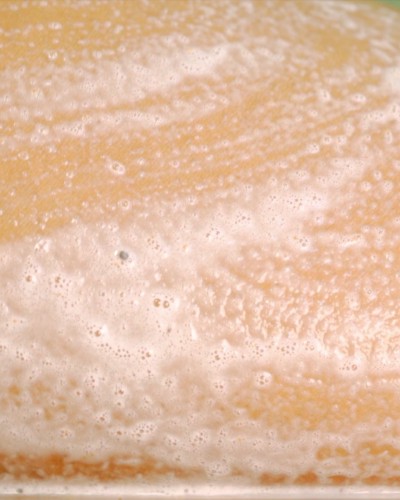 Exfoliation removes the outer layers of dead skin, exposing healthier, smoother, and more resilient skin that often has a "glowing" appearance. But not all exfoliating scrubs are the same! Depending on the type of exfoliant, a scrub can significantly affect the health and appearance of your skin.
This foaming sugar scrub combines soluble and insoluble exfoliants in order to get the balance just right! Soluble exfoliants such as sugar or salt are great for scrubs as they easily melt in water. This limits the amount of exfoliation so that the scrub isn't too harsh.
However, for areas that require deeper levels of exfoliation such as thicker skin, sugar alone doesn't always get the job done!
Insoluble exfoliants such as seeds, shells, beads and grinds are great for refining the level of exfoliation. Not only do they come in a variety of sizes (the larger the particle size, the deeper the exfoliation), but as they don't melt in water they can provider greater exfoliation. This recipe uses poppy seeds to boost the effectiveness of the foaming sugar scrub, as the sugar melts, the poppy seeds continue to remove debris and polish the surface of your skin. If you prefer a deeper level of exfoliation, you can increase the amount of poppy seeds to sugar, likewise, for a gentler scrub either decrease or leave out the poppy seeds all together!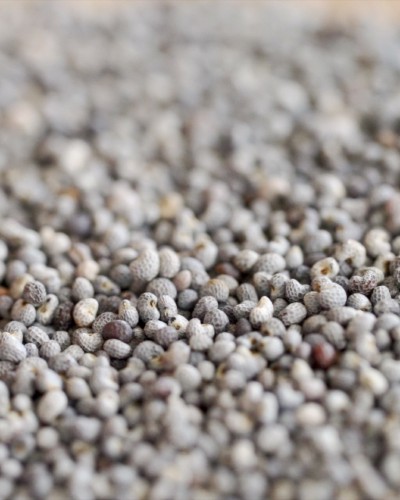 The great part about making your own products is that you're in complete control on how they perform. In addition to choosing which type of sugar you prefer as an exfoliant, you can further customise this recipe by adding a unique fragrance or a vibrant colour.
Essential oil blends and coloured mica powder really elevate this emulsified sugar scrub recipe to a luxurious treat for the senses! This will also make for a beautiful gift during the holiday season!
So, let's get scrubbing!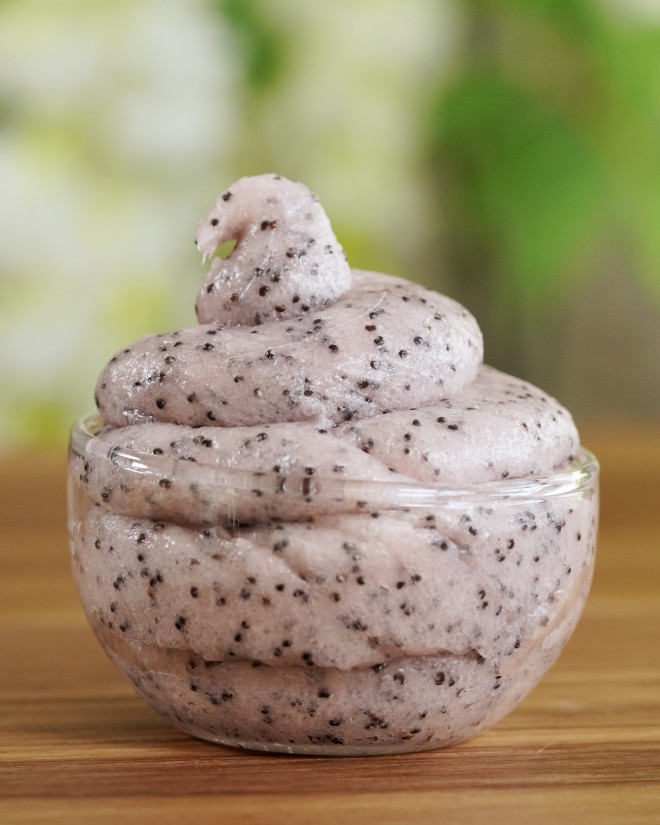 Return to top ↑