Recipe
Heated Phase
120g Cocoa Butter
76g Sunflower Oil or MCT Oil (Medium-Chain Triglycerides)
Cool Down 1
2g Peppermint Essential Oil (optional but recommended)
2g Vitamin E Oil (optional but recommended)
Cool Down 2
1g - 4g Red Mica powder or oil-based Food Colouring
Method
Measure out your heated phase ingredients: Cocoa Butter and Sunflower Oil in a heat proof container.
Gently melt over low, indirect heat until liquid.
Once liquid, allow to cool to room temperature before transferring to a fridge until the butter has set firm.
Add your cool down 1 ingredients: Peppermint Essential Oil and Vitamin E Oil. Then to create an airy whipped texture, use an electric whisk or mixer to whip the butter until it increases in volume and forms soft peaks.
Separate the butter into two halves, then add your red colouring of choice to one of the halves and whisk until mixed in.
Add each half to separate piping bags, then combine in a larger piping bag in order to create a candy cane swirl when piped into your container of choice. The whipped butter will continue to firm up over the next 24 hours.
This recipe makes 200g. See the interactive formula to customise this recipe.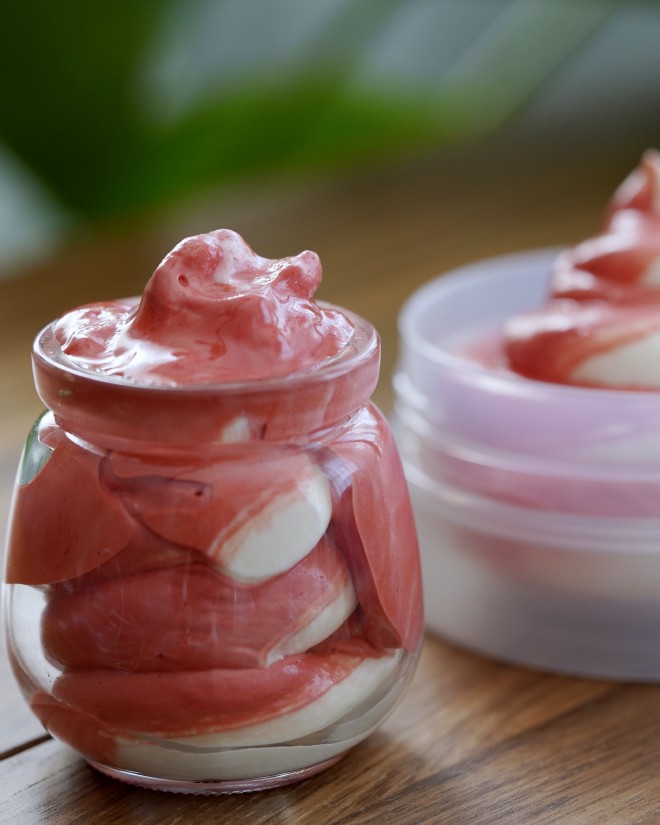 DIY Candy Cane Whipped Butter
Body butters are a really versatile moisturiser for expressing your unique creativity and a way to breathe fresh life into an old favourite. This is the second recipe in my last minute festive DIY gift series, and much like with the gingerbread butter bars and peppermint lip scrub, you're free to substitute the ingredients as you wish.
Which butter should you use in DIY whipped butters
The most important element of making whipped body butters is the ratio of liquid to solid oils (i.e. butters). So why cocoa butter?
Cocoa butter
is probably the most well known vegetable butter, being used in both cooking (particularly chocolate!) as well as in the cosmetic industry. Because of this, it tends to be extremely easy to get a hold of. Health stores, food markets and specialty shops will likely have cocoa butter on hand, so it makes sense to use it in a last minute DIY! However, cocoa butter is actually one of the best butter to whip into a body butter. It's completely solid at room temperature, but it's still relatively easy to melt with just body heat.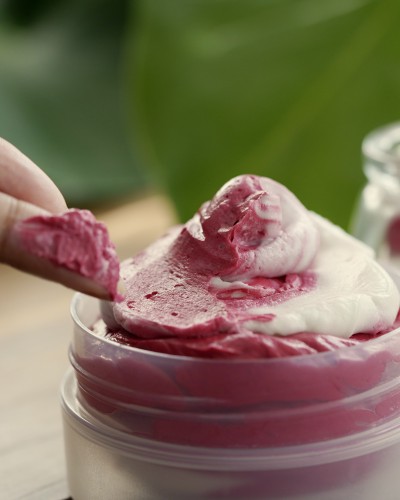 Thanks to this we're able to create an incredibly luxurious 2 ingredient whipped butter without the help of fatty alcohols, waxes or emulsifiers. This is of course true with other butters such as
shea
or
mango butter
, but you will have to alter the ratio of oil to butter. For more specific guidelines on how to use shea butter along with a variety of other vegetable butters, check out my
how to whip any butter tutorial
.
As for the oil you can make it as luxurious or simple as you want! As this is last minute, this candy cane whipped butter was designed to work with cooking oils you're likely to already have on hand, in this case sunflower oil. And if you have MCT oil - you're in luck as it's actually the food-grade version similar to caprylic / capric triglyceride, so would be perfect for this candy cane whipped butter. Of course you're free to use various carrier oils such as grapeseed, almond or whichever you like but I'd recommend sticking to lightweight oils to prevent the whipped butter feeling too heavy on the skin.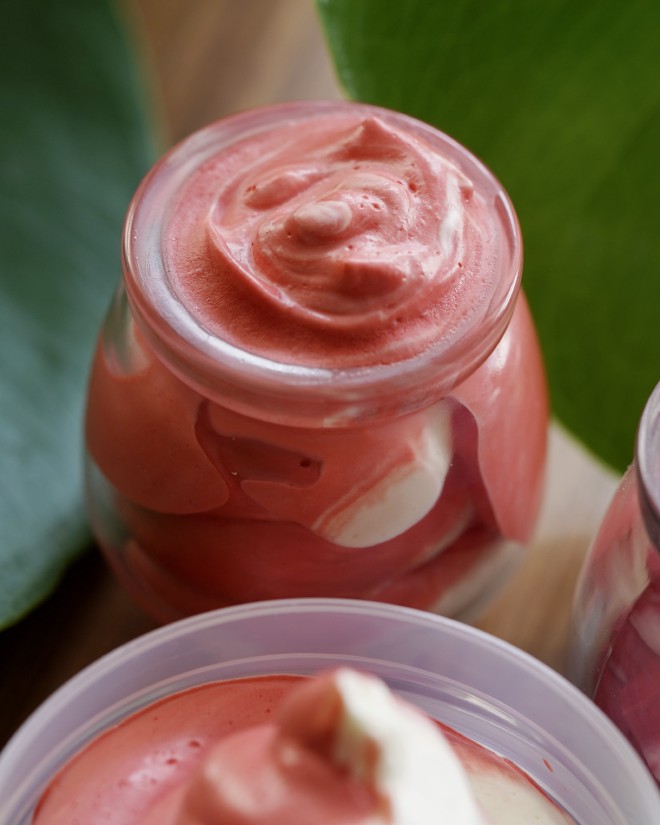 How to create a candy cane swirl
To get that signature red candy cane swirl - cosmetic pigments, powders or mica would be the best option. However, as this is a last minute DIY, if you don't have red mica on hand… food colouring is the pigment of choice! Not all food colouring will work, in fact I would only recommend using oil-based food colouring, the type used on fondant icing.
This is important as our candy cane whipped butter is an anhydrous moisturiser, so we don't want to introduce water into our formula. The most obvious drawback is that you're rubbing food colouring into your skin, it's suitable for consumption so it's not dangerous but I would go easy on the amount you include in this recipe. Use just enough to give you a reddish hue! If you'd like a less DIY-ish version of this whipped butter, check out this amazing
Candy Cane Body Butter formula
from goodformulations.com (which was the inspiration for this last minute festive gift!).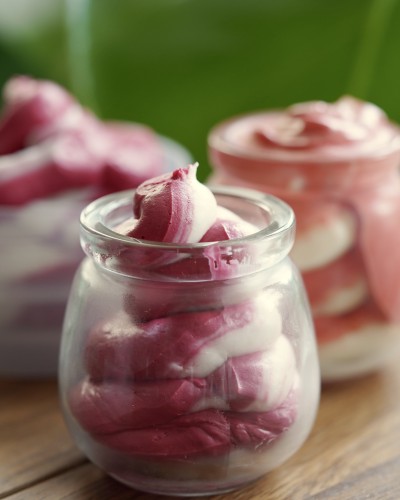 Return to top ↑