Recipe
Phase A
52g Cupuaçu Butter
30g Kokum Butter
26g Coco-Caprylate/Capric
20g Grapeseed Oil
14g Stearic Acid
10g Cetearyl Alcohol
Phase B
30g Coco-Caprylate/Capric
10g Cornstarch
3g Red-Brown Iron Oxide
3g Bronze Mica Powder
2g Gold Mica Powder
1g Honey Pigment Powder
Cool Down
2g Optiphen (Preservative)
1g Vitamin E Oil (Antioxidant)
2g Essential or Fragrance Oils (Optional)
Method
Measure out phase A ingredients: Cupuaçu Butter, Kokum Butter, Stearic Acid, Cetearyl Alcohol, Coco-Caprylate/Caprate and Grapeseed Oil
Combine ingredients in a heat-proof container, and gently melt over a low heat using a bain-marie or double-boiler
Once molten with no solids, take off the heat and allow to cool until thickened but still liquid
Measure out phase B ingredients: Mica or Pigments, Cornstarch and Coco-Caprylate / Caprate. Whisk together until homogenous and completely smooth
Combine phase B with phase A and blend thoroughly
Pour into a tub-style container and leave to set either in the refrigerator or at room temperature for a minimum of 12 hours.
This recipe makes 100g and will last approximately 12 months. See the interactive formula to customise this recipe.
What is a body butter bronzer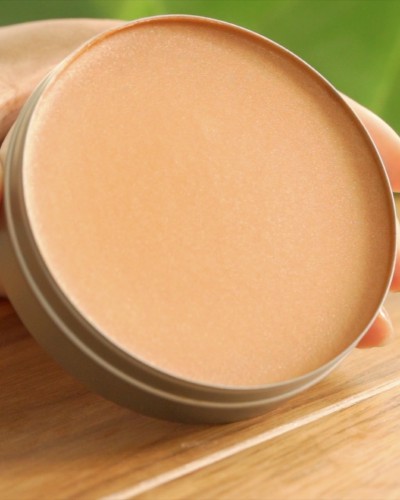 Body butter bronzer: not sure if this term has been coined yet - but in case it's not, you heard it here first!
This body butter bronzer combines ultra-moisturising body butter with a rich bronzing hue that evens out skin tone and deeply nourishes skin.
It can be used as an all-over body moisturiser, but this body butter bronzer is especially effective on exposed areas such as the legs and arms. As well as bums in the sun (that can always benefit from a little extra glow and smoothing)!
How to make a body butter base
This recipe is a fusion between skincare and makeup, so it's important to pick the right moisturiser as its base. I'm using a no-whip body butter as it's a compact and highly concentrated moisturiser that will provide lasting moisture and blend well with pigments. Body butters contain large amounts of emollients such as butters and oils which are highly effective on rough or dry areas of skin typically found on legs, feet and arms. However, they can be quite heavy moisturisers that take a while to fully absorb into the skin, so using a combination of lightweight and fast absorbing ingredients is essential for a well-formulated product.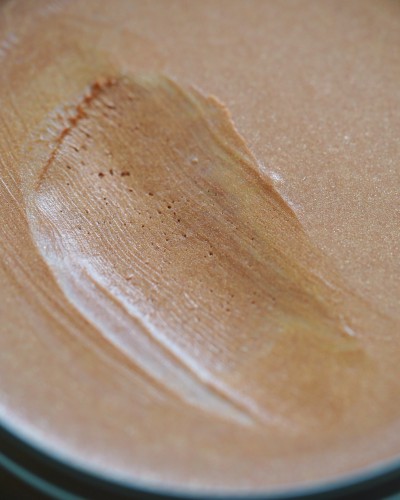 How to make body bronzer
To make a body butter bronzer you will need to combine two separate elements, the body butter base (as discussed above) and the body bronzer. You can control the level of tint, sparkle and shade by using a combination of mica powders. However, for best results, I'd recommend using a variety of colourants: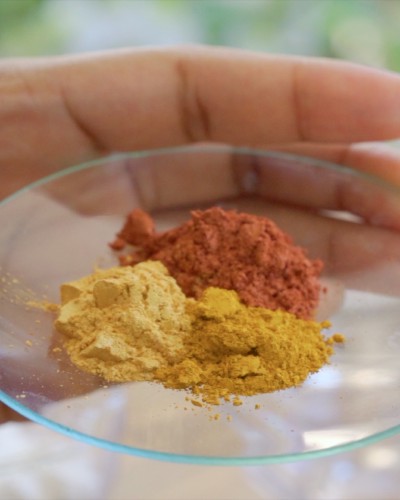 Mica powders are pearlescent with a natural sparkle that looks very pleasing on the skin, however, they typically don't provide much colour payoff in moisturisers.
Iron oxides are natural mineral pigments that have significant colour payoff, however they have a limited colour range.
Pigment powders is a "catch all" phrase that typically refers to artificial or synthetic colourants, they can range in their intensity but will come in a variety of colours and shades.
How to use body butter bronzer
This body butter bronzer can be applied directly to your skin like a regular moisturiser. Once applied, let the butter gently absorb into your skin and try to avoid vigorous massaging. It is best used on exposed areas of skin, rather than under clothes as some of the bronzing pigment may transfer.
Body bronzers resemble their better known makeup counterparts but there are a few key differences to note.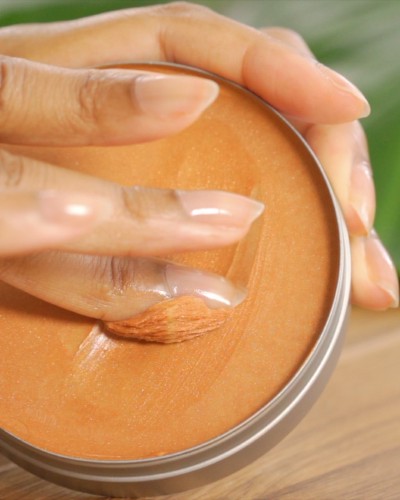 Sheer coverage: this isn't spray tan in a tub! A body butter bronzer provides a subtle but effective tint to your skin that has an "airbrushing" effect. This helps skin appear healthier, evens out skin tone and provides a pleasing glow.
Universal: makeup can and should be tailored to your unique complexion, but skincare is typically broader in its application. This formula is designed to complement a deep and broad range of tones, but I encourage you to experiment with different colours and pigments.
Non-permanent: The selection of bronzing pigments I've used are designed to wash off easily so that they can be applied as and when necessary. It doesn't require additional makeup removers and can be rinsed off using standard cleansing products in the shower.
Return to top ↑