All the fun of a body scrub with none of the cleanup! Get super-soft, glowing skin without the hassle of using messy body scrubs. And as an added boost, these Body Butter Scrub Bars combine the intensely moisturising properties of body butters with the exfoliating convenience of scrubs to make for the ultimate skincare DIY! Perfect for exfoliating in the bath, shower or even when travelling!
Sounds good? Let's head straight into this tutorial on making Body Butter Scrub Bars: perfect for sharing – but so good we'll want to keep them for ourselves.
Recipe
Base Recipe
132g Cocoa Butter
46g Almond Oil
20g Almond Wax
2g Vitamin E Oil
Oat Scrub (For Sensitive Skin)
20g Oats (coarsely ground)
Essential Oils: Vanilla & Orange
Rose & Beetroot Sugar Scrub
20g Sugar
2g Rose Petals
2g Beetroot Powder
Essential Oils: Geranium
Method
Measure out ingredients
Melt the butters, almond oil & wax together in a double boiler
Leave the melted mixture in the fridge to thicken for approximately 20 minutes (keep an eye on it!)
Once the mixture has cooled, but not hardened, add in the Vitamin E oil & mix
Once "trace" or thick and viscous, split into two and add the respective exfoliant & essential oils. Mix each gently until evenly distributed
Pour into moulds and set in the fridge overnight
Exfoliation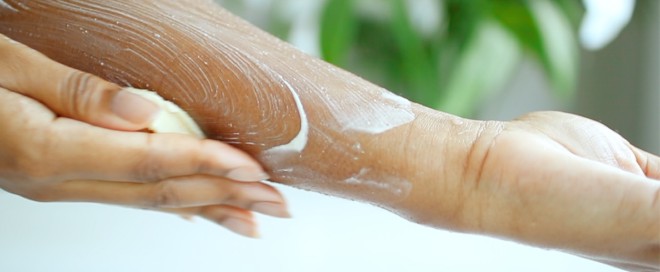 Exfoliating is a key part of maintaining healthy skin, as well as being instrumental in getting that "glowing skin" everyone raves about! There are many benefits to including exfoliation in our skincare routine which include:
Smoother, less textured skin by removing dead skin cells, dirt and debris
Skin stays moisturised for longer, as unblocked pores lead to better absorption of moisturisers
Healthier skin! Regular exfoliation improves blood circulation and therefore collagen production to help the skin look healthier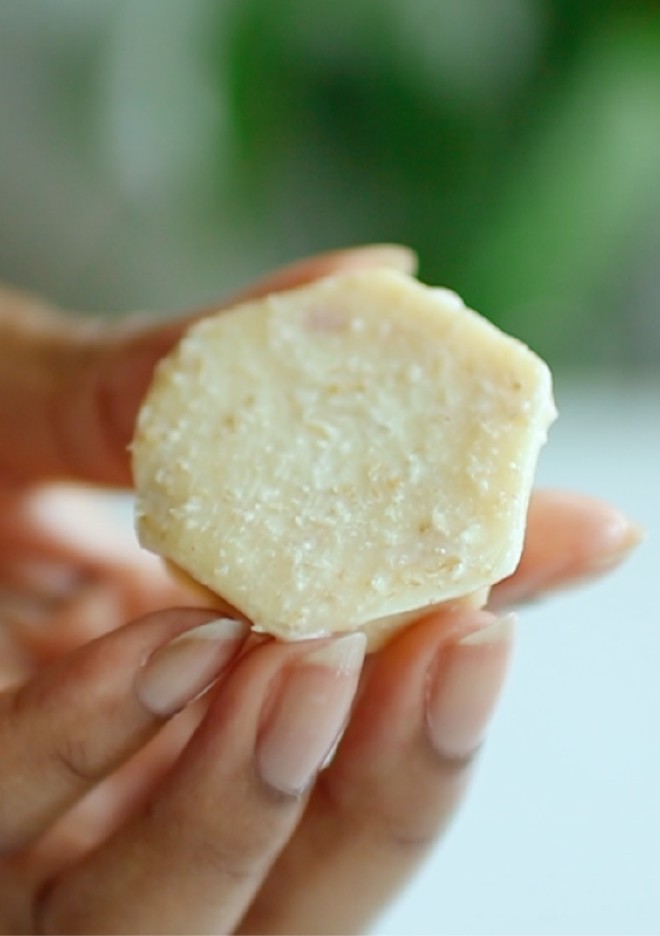 Oats
Our first Body Butter Scrub Bar uses ground oats as the main exfoliant.
Oats are incredible for the skin! They repair, moisturise and soothe the skin due to having high levels of antioxidants and their natural anti-inflammatory properties. Oats are a great choice to use as an exfoliant, especially if you suffer from sensitive or dry skin conditions such as eczema.
Over-exfoliation can cause significant damage to your skin, and therefore the oats' ability to control the level of exfoliation in our bars is a huge bonus! Coarsely ground oats will exfoliate more, so you can decide the harshness of the scrub bar by how fine you grind your oats.
Oats also soften in water reducing the chance of over-exfoliation. For more on the benefits of oats, see my intensive oat lotion tutorial.
Sugar
Our second body butter scrub bar uses sugar as the main exfoliant. You have a choice of different sugars to use, all of which will feel different on the skin – e.g. white, golden, muscovado, raw, etc. Feel free to experiment!
Brown sugar is a great choice to start with as it's gentler than salt and softer than white sugar. It provides a deep exfoliation that clears away dry & dead skin cells. Its natural antibacterial & glycolic acid helps penetrate deep into the skin for a radiant and healthy appearance.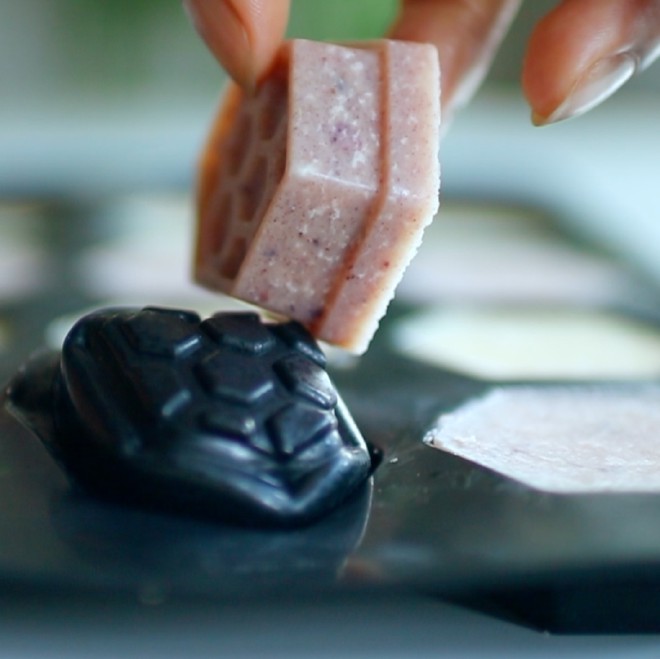 Active Ingredients
To give your Body Butter Scrub Bars an extra boost, you can add beetroot and rose petals.
Beetroot powder
Beetroot's high concentration of vitamin C and folic acid helps renew skin cells and increases collagen production.
It's high in antioxidants that help increase blood circulation & revitalise the skin.
Ground rose petals
In addition to looking pretty & providing extra exfoliation, rose petals increase elasticity, evening out skin tone, and exfoliating skin for a younger, smoother appearance.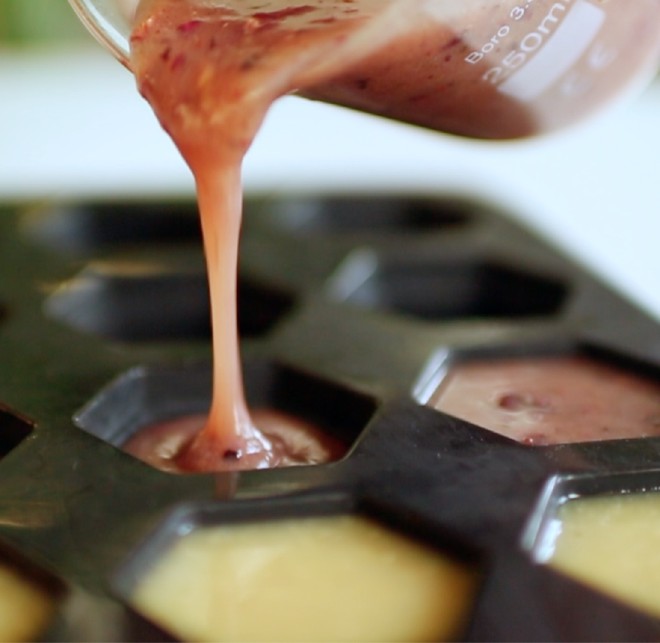 Which moulds to use
Silicone moulds are best for making any sort of solid skincare product - not just our body scrub but also soaps, shower jellies and lotion bars. They're flexible and non-stick so reduce the chance of your products breaking when you remove them from the mould.
Try and invest in small silicone moulds used for sweets or chocolates. Not only are they flexible which reduces any breakage on removal, but they're also multi-purpose and so can double up for oven use!
The moulds should be small enough for single use scrub bars only - this avoids the necessity of preservatives.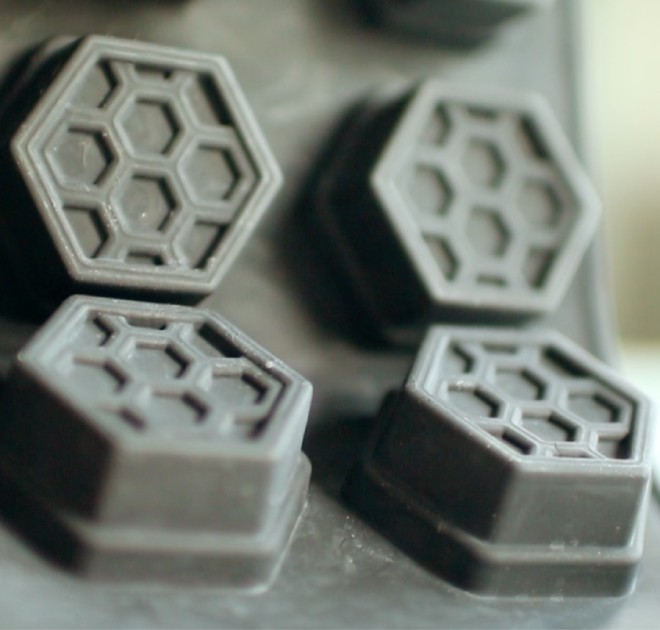 Customisation
You're not just limited to the exfoliators used in this recipe. Feel free to experiment with ingredients like coffee, ground botanicals and powders!
You can also change ingredients in the body butter scrub base for a more personalised scrub:
Fragrances can always be swapped out for your favourite scent or omitted altogether.
Butters are crucial to the moisturising and creamy feel of our body scrub bars. The base used here is cocoa butter, but you are free to use shea, Mango, Avocado or any butter you prefer. However, I recommend working with a firmer set butter, this limits the amount of wax you'll need to add to your body bars to make sure that they stay solid at room temperature. For instance, cocoa or Mango butters are firm and can be used interchangeably in this recipe. However, shea butter would require that you increase the wax or use a firmer set wax-like candelilla rather than almond.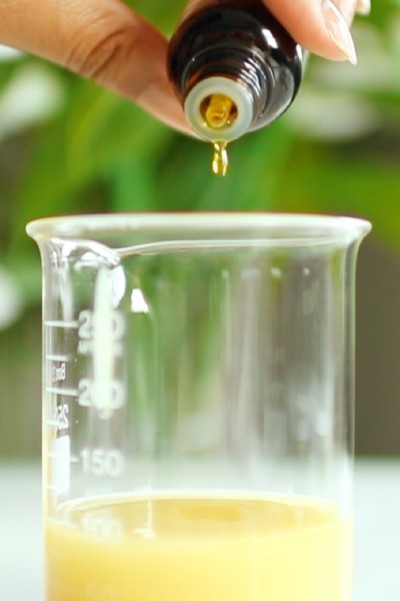 Almond oil is my go-to all-rounder oil due to being wonderfully light and moisturising, yet somehow still affordable! However, any liquid oil will work well with this recipe. I advise against using coconut oil as, depending on the climate, it can be either liquid or solid at room temperature, which might affect the balance of the rest of the ingredients.
Exfoliate or moisturise…
Why not both?
Unlike a conventional body scrub which can be stripping, the cocoa body butter base makes sure our scrub bars not only exfoliate, but also leave skin ultra moisturised. You can actually feel the effects of the cocoa butter on your skin. It's so effective you could even skip using an additional moisturiser altogether!
Remember, making your own DIYs does not have to be costly. Use items you have to hand; whatever sugar is in the house, ice-cube trays instead of silicone moulds, both are good budget-friendly substitutes.
Return to top ↑