Recipe
Oil Phase
210g Fractionated Coconut Oil
18g Fenugreek Seeds
18g Hibiscus Flowers (dried)
18g Amla Fruit (dried)
18g Neem Leaves (dried)
18g Marshmallow Root (dried)
Cool Down
1.5g Vitamin E Oil (antioxidant)
Method
Measure out your oil phase ingredients: Fenugreek seeds, Hibiscus, Amla, Neem, Marshmallow root and your oil of choice, I'm using Fractionated Coconut Oil.
In a glass container with a tight-fitting lid (e.g. mason jar) pour in the ayurvedic herbs and your oil of choice.
Mix thoroughly and ensure the herbs completely covered, add more oil if necessary.
Set aside, ideally in a place with access to sunlight, and allow the herbs to infuse the oil for 2 - 4 weeks. Every few days stir the herbs to ensure they're evenly dispersed throughout the oil.
Once the oil is infused, it should take on a rich yellow-green hue and should be fragrant.
To strain, use either a muslin or cheese cloth, or coffee filter. This ensure you get maximum extraction but all the plant material has been filtered out.
Measure out your cool down ingredient: Vitamin E oil or another preferred antioxidant. Add this to your strained ayurvedic oil and mix thoroughly.
Store in a glass container (ideally tinted), away from direct sunlight. This ayurvedic hair oil is suitable to use on hair, scalp and skin but I always recommend carrying out a patch test first.
This recipe makes 300g of Ayurvedic Oil and will last at least 12 months. See the interactive formula to customise this recipe.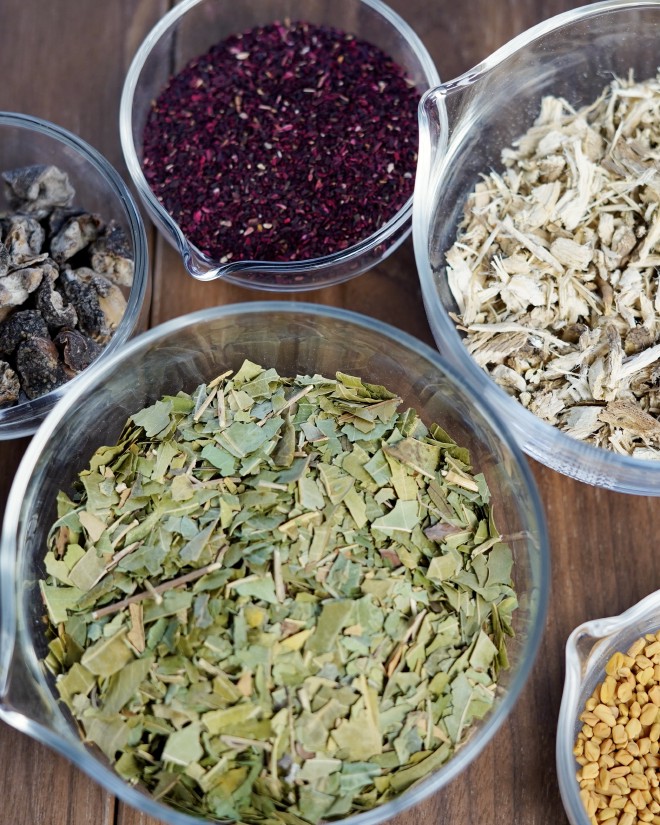 What is Ayurvedic Hair Care?
There's a lot of buzz around Ayurveda for hair - and with good reason! But with over 600 herbs and botanical plants, a rich and ancient history to unpack, and seemingly never-ending lists of benefits - it can be difficult to know where to start! Ayurvedic herbs can visibly improve the health and appearance of your hair, including stimulating hair growth, reducing split ends and breakage, strengthening and moisturising hair and so much more.
So let's take a look into ayurvedic hair care and how to incorporate some of the most potent natural herbs, plants and flowers into your regime.
The ayurvedic approach to hair care utilises botanical material such as herbs, leaves and flowers to improve and maintain the health of your hair. Derived from the ancient Indian medicine system that focuses on a holistic approach to managing health. The natural therapeutic properties of herbs can impact a variety of factors such as hair growth, dandruff and scalp issues, thinning and shedding, elasticity, moisture and the overall condition of your hair.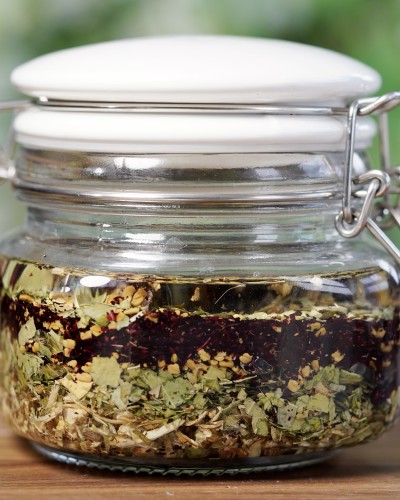 Ayurveda actually aims to balance the entire body's composition and encompasses much more than just topical herbal treatments. But there are still plenty of benefits from incorporating even a small amount of ayurvedic herbs and plants into your hair care regime. Whilst there is limited research to fully support the documented benefits of ayurvedic herbs (as so often is the case with natural ingredients), the proof is in the pudding!
How to make Ayurvedic oil
Ayurvedic hair oil is a type of herbal oil made by infusing a carrier oil with ayurvedic botanical extracts. A selection of ayurvedic herbs are combined with vegetable or plant oil to create a herbal oil treatment with unique benfits for your hair and skin. Please note that while this ayurvedic oil has been primarily targeted at hair concerns, many of its benefits also apply to skincare and therefore can be used on both hair and skin. There are two primary methods to infuse oil: hot infusion and cold infusion, this recipe uses the cold infusion method.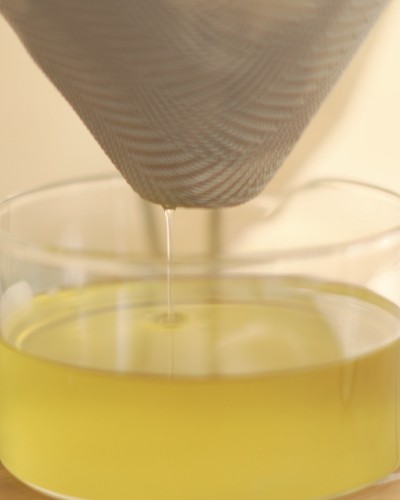 Cold infusion herbal oils take several weeks and use the warmth of sunlight to produce a potent ayurvedic oil. Once you've selected your herbs, ensure that they are completely dry and free from debris.
In a sealable glass container, add your ayurvedic herbs and carrier oil. Allow this to sit at room temperature, ideally in a location with a lot of sunlight to infuse anywhere from 2 - 4 weeks. Over time the oil should take on a deeper colour and rich scent. After the oil has been strained, I recommend adding an antioxidant to prevent against rancidity.
Ayurvedic hair oil benefits
Ayurvedic hair oil is an infused herbal oil with properties that target some of the most common areas of concern for hair. There are hundreds of ayurvedic herbs that can be combined to create thousands of unique hair care treatments. As a starting point, this ayurvedic hair oil recipe combines powerful herbs and flowers to tackle common hair issues such as: hair growth, shedding, strengthening, moisturising and breakage. Below is a breakdown of the main benefits of each ayurvedic herb used.
Fenugreek benefits for hair
Fenugreek, also known as Methi, is a herb native to Western Asia. Its seeds are a rich source of protein, vitamins and lipids that are essential for maintaining healthy hair. It is particularly notable for it's effects on hair growth and reducing shedding. Benefits of fenugreek for hair include:
Soothes scalp and reduces inflammation
Prevents shedding
Strengthens hair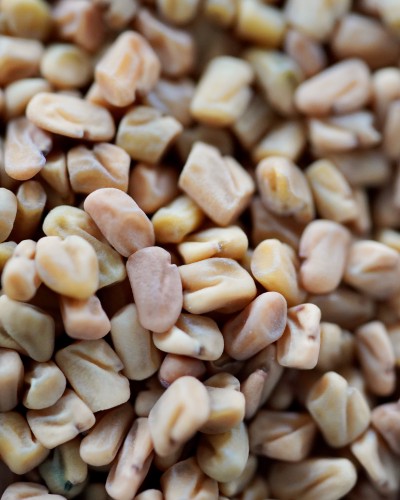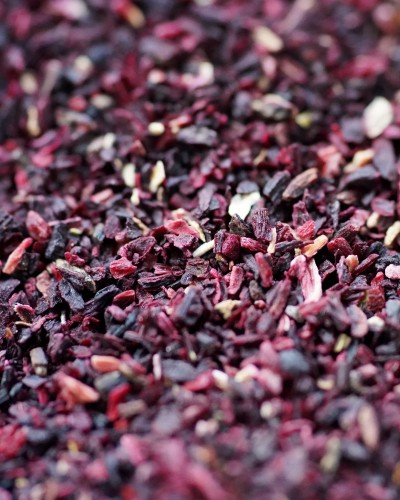 Hibiscus benefits for hair
Hibiscus flowers are high in both flavonoids and amino acids that can have invigorating effects on new hair growth. By enhancing blood circulation to your hair follicles and producing keratin that is an essential building block of hair, hibiscus is a powerful ayurvedic herb. Benefits of hibiscus for hair include:
Stimulates new hair growth
Strengthens hair and limits breakage
Restores elasticity to hair strands
Marshmallow Root benefits for hair
Marshallow root is a herb native to Africa but it can also be found in parts of Asia and Europe. It's an extremely effective emollient and conditioner due to it's high levels of mucilage that acts a protective film when applied to hair. Marshmallow root is a popular ingredient in a variety of natural hair gels, conditioners and moisturisers. Benefits of marshmallow root for hair:
Natural moisturiser
Detangles and conditions hair
Improves shine and appearance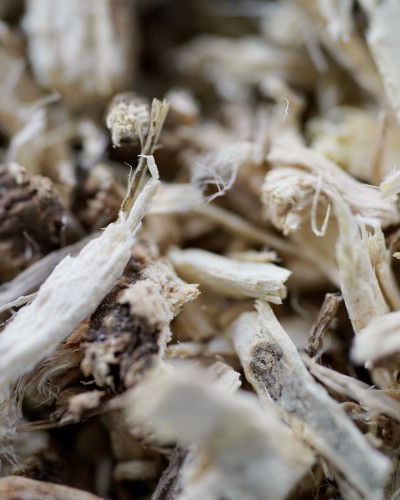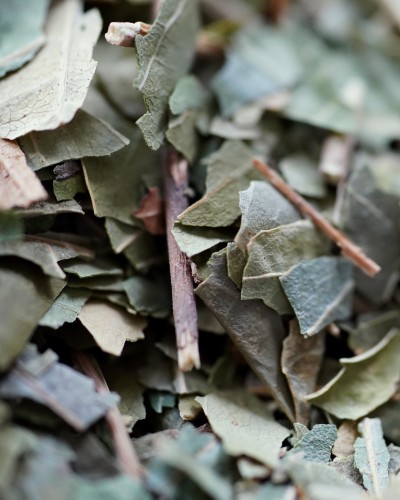 Neem benefits for hair
The neem tree is commonly used for medicinal purposes, with its leaves being sources of fatty acids, vitamins, minerals. The fruits, seeds and leaves can all provide health benefits, but the leaves in particular are used for this ayurvedic hair oil. Benefits of Neem leaves for hair:
High in antifungal and antibacterial properties that help with dandruff and scalp issues
Promotes hair growth and reduces shedding
Strengthens hair follicles
Amla benefits for hair
Amla, also known as Indian Gooseberry, is the fruit of the Amalaki plant native to Asia. Amla is naturally high in vitamins, fatty acids, amino acids and tannins that increase circulation and strengthens hair follicles.
Benefits of Amla for hair:
Promotes hair growth
Reduces dandruff and improve scalp health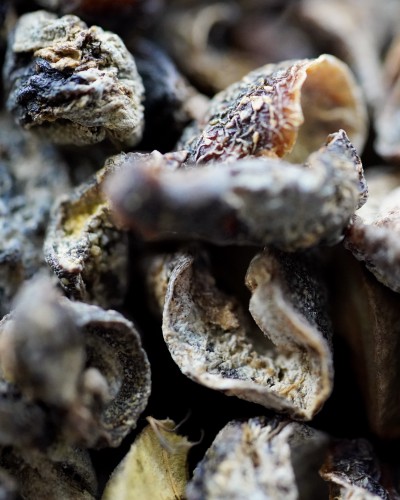 How to use Ayurvedic hair oil
Herbal oils are incredibly versatile, and due to the nutrient rich ayurvedic oil, there are several ways to use it in your hair care regime:
Herbal Oil treatment - apply to hair before shampooing or as an overnight treatment. For deeper penetration, pair with a heatcap or wrap your hair in a towel.
Hair and scalp oil - apply a small amount of oil to your hair and scalp, gently massage until the oil has absorbed. Ayurvedic oil can also be applied to the tips of your hair to improve the appearance of split ends and prevent breakage.
Deep conditioner - either add a small amount of oil to your deep conditioner, or use as a standalone treatment. Gently work the ayurvedic oil into your hair using your fingers or a comb. Allow the oil to soak into your hair for at least 30 minutes before washing it out.
As an ingredient - ayurvedic hair can be used as an emollient to infuse other formulas with ayurvedic properties. See my whipped shea body butter, ayurvedic hair butter and ayurvedic hair cream recipes to learn how to make great ayurvedic products!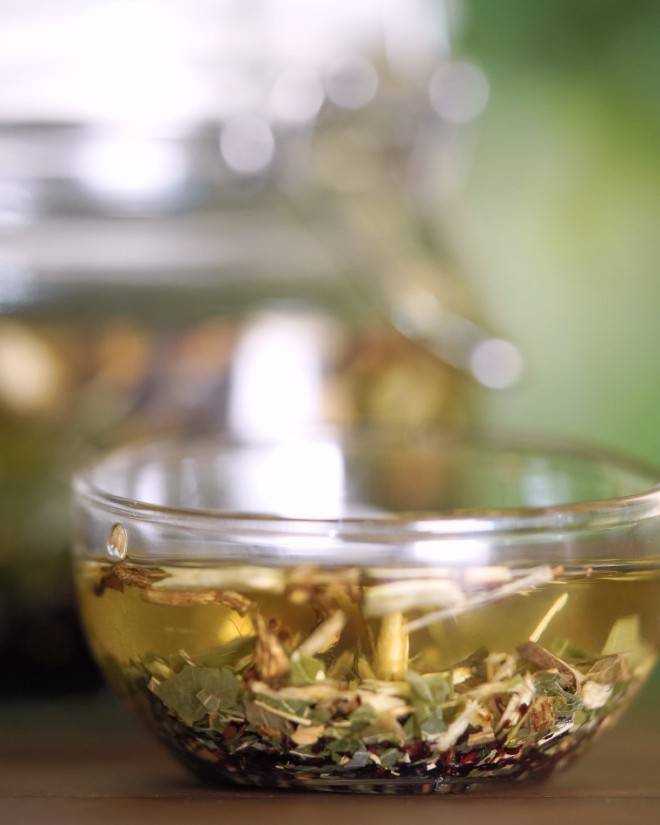 Return to top ↑