This homemade moisturising foot butter will knock your socks off - literally!
Summer's here - the season where our feet are out on full display. We all know feet can be notoriously difficult to keep moisturised. Even if your regular moisturiser works great on the rest of your body – there's no guarantee that it will be up to the summer feet challenge.
Body butters are fantastic for when you need an intensive moisturiser that can replenish those vital outer layers of skin, thanks to their high oil content. And this recipe goes the extra step! The active ingredient Magnesium boosts the moisturising potential of this foot butter.
Read on to find out how.
Recipe
Water Phase
25g (2 tbsp) Magnesium Flakes
25g Warm Water
Oil Phase
100g Shea Butter
30g Jojoba Oil
5g Emulsifying Wax
Cool Down
2g Preservative Eco (Natural Preservative)
2g Vitamin E Oil
5 drops Tea Tree, 5 drops Rosemary, 4 drops Eucalyptus, 3 drops Lemon, 3 drops Frankincense
Method
Make magnesium oil: dissolve the magnesium flakes in the warm water. Once all flakes are dissolved, set aside to cool
Place the shea butter and emulsifying wax in a heatproof bowl and melt over a low heat (e.g. double boiler)
Once the butter and wax have completely melted and cooled slightly, transfer to a larger bowl
Mix essential oils, then add to the butter and wax mixture, along with the almond oil
Set the mixture in the fridge to firm up for at least one hour
Once cooled (the surface should be solid and a pale white colour), use an electric whisk to whip the butter into soft peaks
Add the magnesium oil, vitamin E oil and preservative
Whip the foot butter again with a whisk to ensure the magnesium is spread evenly throughout
To store, it's best to use a glass container with a wide opening. Either scoop or pipe your foot butter into the container.
This recipe makes 200g. See the interactive foot butter formula to customise this recipe and amount.
Magnesium
Magnesium is a mineral that absorbs faster through our skin than ingesting, making it a great choice to add to our skincare. It can help fight against fungal infections and reduce odour. Magnesium is also a great exfoliator, smoothing skin for softer feet.
Magnesium oil
This recipe calls for magnesium oil. Confusingly, "magnesium oil" is just magnesium flakes dissolved in water – no oil involved.
Magnesium flakes are a highly concentrated form of magnesium chloride. They're similar to Epsom salts and dissolve readily in water.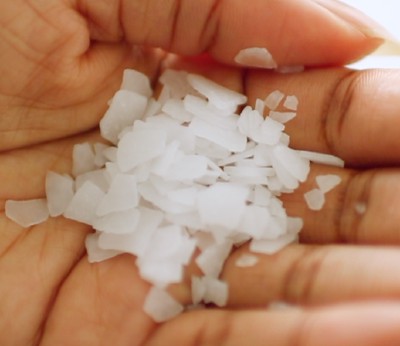 The flakes are a translucent white colour, and your body heat alone is enough to melt them. When diluted in water, they absorb rapidly into skin providing the benefits of magnesium.
No magnesium flakes?
No problem!
You can substitute magnesium flakes with Epsom salts and follow the same recipe steps. Epsom salts are mostly magnesium compounds in different forms.
Magnesium flakes have a higher purity, absorb faster into the skin and are more potent than Epsom salts – so they're worth using if you have the choice.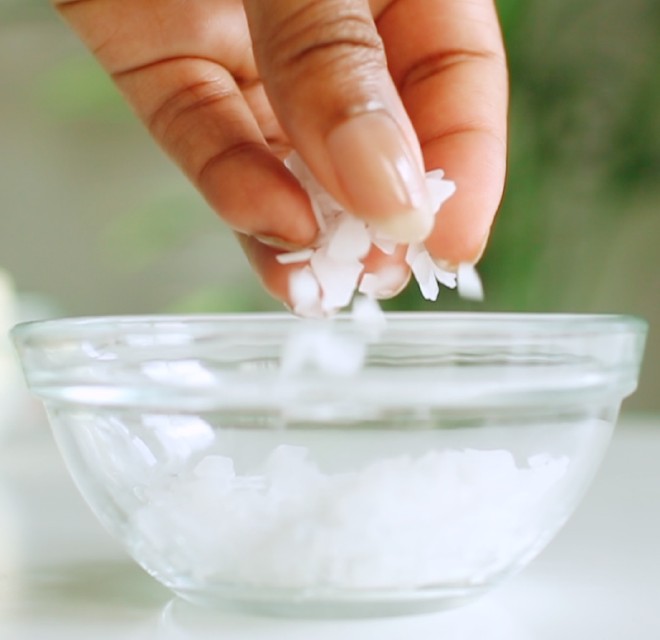 Why we need to moisturise our feet
Besides not looking great, severely dry and under-moisturised feet can lead to more serious problems. Cracked heels can result from extremely dry feet and are difficult to get rid of. This can result in pain, blisters and even infections.
So make foot care a priority. Look after your feet by moisturising regularly and embrace your summer sandals.
Return to top ↑