Bathe in luxury this holiday season with these handmade festive bath salts! Cosying up on the sofa, endless glasses of mulled wine and long baths with handmade bath salts. If you're looking for a pampering staple that won't break the bank - look no further than these festive bath salts!
Recipe
1/2 cup Epsom Salts
1/4 cup Himalayan Pink Salt
1/4 cup Magnesium Flakes
20 drops Essential Oil Blend:

10 drops Orange Essential Oil
5 drops Vanilla Essential Oil
3 drops Lavender Essential Oil
2 drops Frankincense Essential Oils
Method
In a large bowl combine Epsom Salts, Himalayan Pink Salt and Magnesium Flakes (see below for substitutions).
Add the essential oil blend: Orange, Vanilla, Lavender & Frankincense essential oils or 20 drops of your favourite oils.
Mix together thoroughly until oils and salts are evenly distributed.
Pour into an airtight glass container, and store away from sunlight.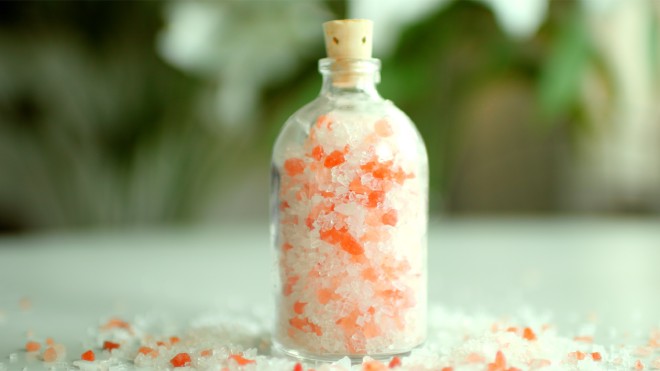 Benefits of Epsom Salts for your skin
Magnesium is the main compound in both Epsom salts and magnesium flakes and has a wide variety of benefits for your skin and body.
Every cell in your body contains Magnesium and needs it to function properly, it also has the ability to relieve muscle tension, exfoliate skin and smooth skin, along with fighting against fungal infections.
Using either Epsom salts or magnesium flakes as the base of your bath salts is a great way to boost your body's magnesium supplies as this is one of the minerals that the human body actually absorbs faster through our skin rather than ingesting.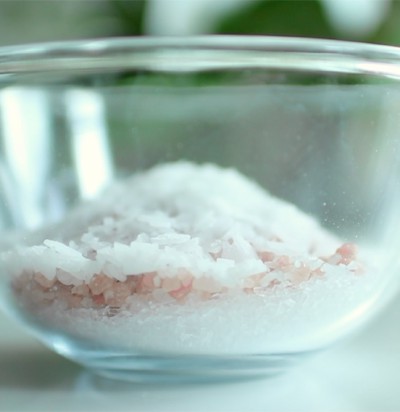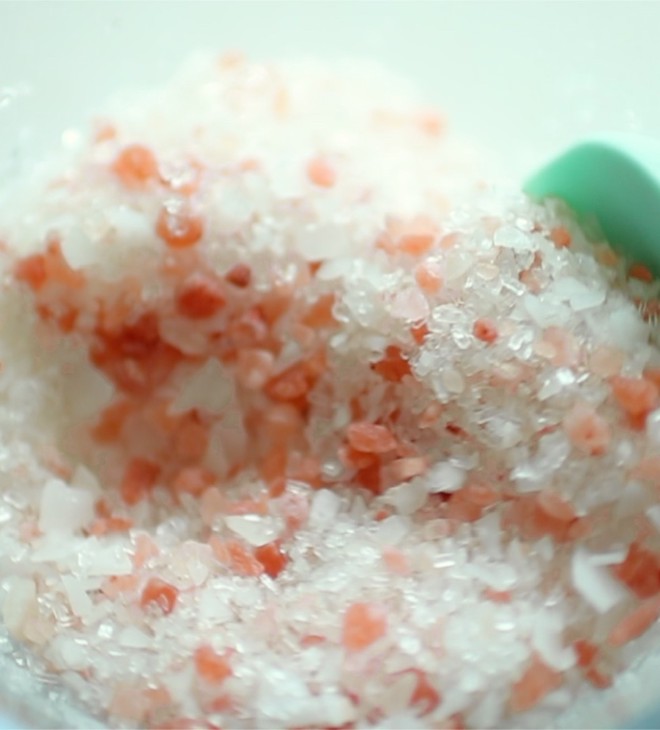 Magnesium Flakes
As mentioned in my Foot Butter tutorial, magnesium flakes are more potent than Epsom salts as they have a higher purity of magnesium and therefore absorb faster into the skin.
It is not essential to include both in these festive bath salts but, if you have any to hand, I would higher recommend it. Not only does this boost the overall benefits of the bath salts, but it adds texture and makes for a more visually appealing gift.
Please notes, magnesium flakes have a lower melting point than both Epsom salts and natural salts.
Be sure to store in a cool, dark place, away from sunlight to avoid your bath salts melting.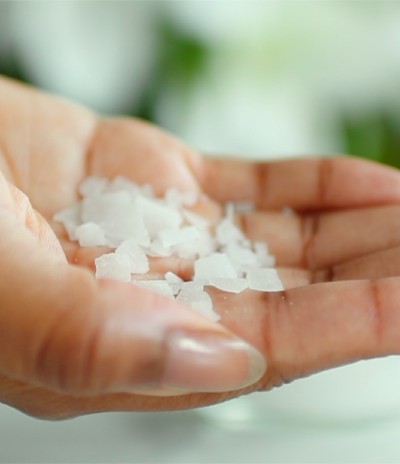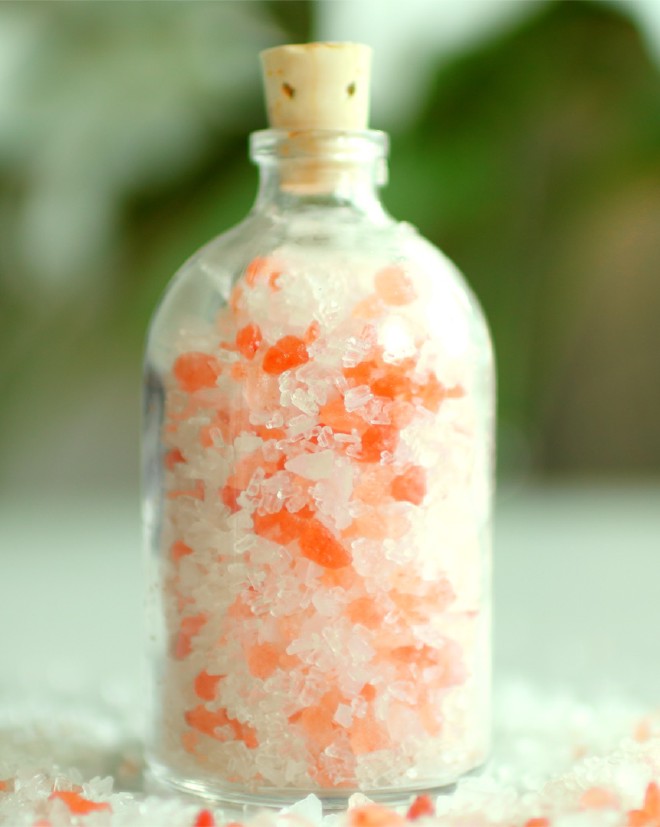 Customisation
These festive bath salts are great to make as is, but they can also be jazzed up with just a couple alterations.
Dried Flowers make for a visually stunning addition to this recipe. Rose petals, lavender, chamomile or even hibiscus flowers are all great choices that come in a wide variety of colours and have unique benefits for the skin.
Herbs such as rosemary, peppermint and thyme will boost the medicinal properties of your bath salts whilst adding a calming fragrance that soothes the soul.
Glitter powders & colourants add visual flair and make for great gifts that are easily customisable.
Himalayan Pink Salt can be substituted for any natural salt like Sea Salt. Try to get coarse grind so that they don't settle at the bottom of your bath salts.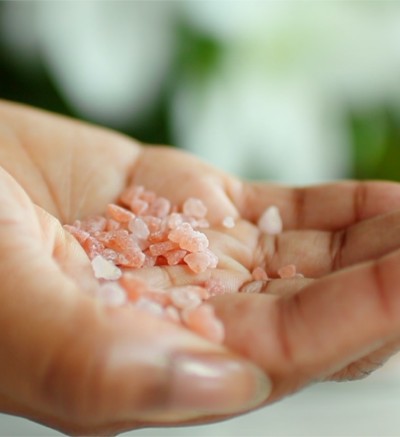 Easy to make and even better to use, for the gift of true relaxation this holiday season, try making these festive bath salts!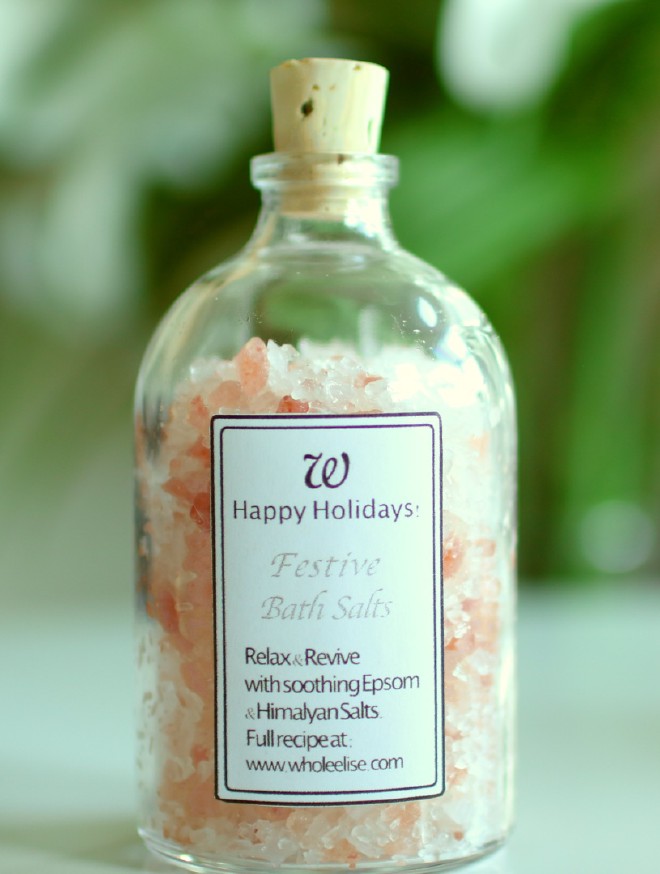 Return to top ↑