This simple but effective oat lotion is able to penetrate deep into the skin's outer layers, providing lasting hydration. The best part? It's a fraction of the price of intensive over-the-counter emollient creams!
If you've ever suffered from dry skin or eczema, you know how disheartening it can be to see your eye-wateringly expensive cream evaporate before your eyes! A couple of hours of protection and you're back to square one with dry skin!
But no more! To this day, this is still my go-to moisturising lotion, packed full of oats, shea butter & almond oil - It's a no-fuss moisturiser that gets the job done where most creams fail. So… let's get started!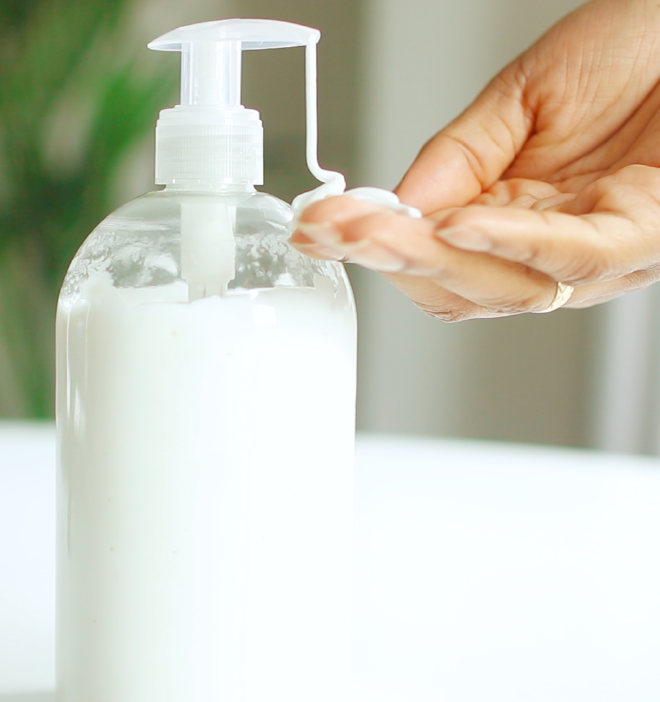 Recipe
Water Phase
240g Distilled Water
12g Glycerine
4g Colloidal Oatmeal
Oil Phase
60g Shea Butter
60g Almond Oil
24g Emulsifying Wax
Cool Down
4g Preservative Eco (Natural Preservative)
4g Vitamin E Oil (Antioxidant)
Essential Oils for Fragrance (Optional)
Method
Measure out your water phase ingredients: Distilled water, glycerine & colloidal oatmeal and your oil phase ingredients: shea butter, almond oil & emulsifying wax
Over a low heat (e.g. double boiler), melt both phases in separate heat proof glasses
Once completely melted, mix together and transfer to a flat surface
Use an immersion blender or electric whisk to create an emulsion. As the mixture cools and more air is incorporated, it will start to thicken and change to a pale cream colour
Once your lotion has reached your desired consistency and is cool, transfer to a scale
Add your Cool Down ingredients: preservative, antioxidant & any essential oils for fragrance
Briefly mix again either by hand or using a blender to ensure that all the ingredients are evenly distributed
Store your oat lotion in an airtight tinted glass pump bottle or container
This recipe makes 400g of lotion. See the interactive oat lotion formula to customise this recipe.
The Power of Oats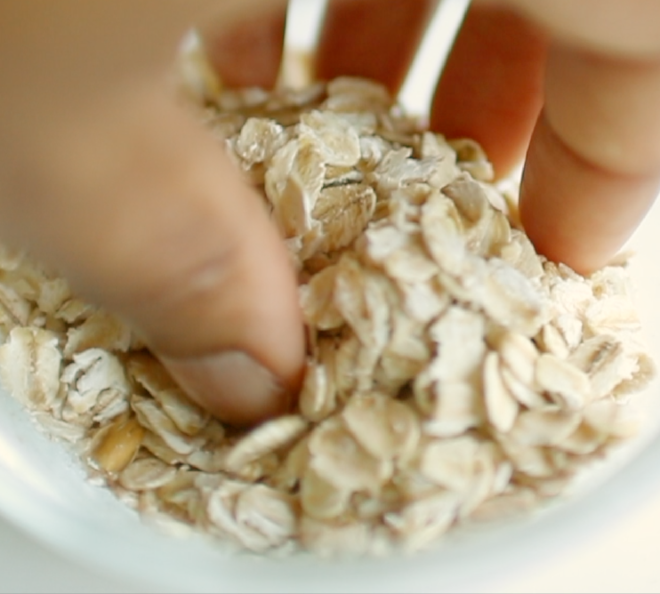 Colloidal Oatmeal
If you've never heard of it before - take notes! This is what elevates our lotion from good to life-changing! Oats have incredible moisturising properties that are able to repair your skin's barrier and soothe sensitive skin. Colloidal oatmeal retains all the benefits of oats including the lipids, beta-glucan and antioxidants. Its powdered form allows you to easily add it to creams, lotions and just about any moisturising product you want!
I'm not one for pushing ingredients, but this is worth purchasing and is a mainstay in most of my skincare DIYs.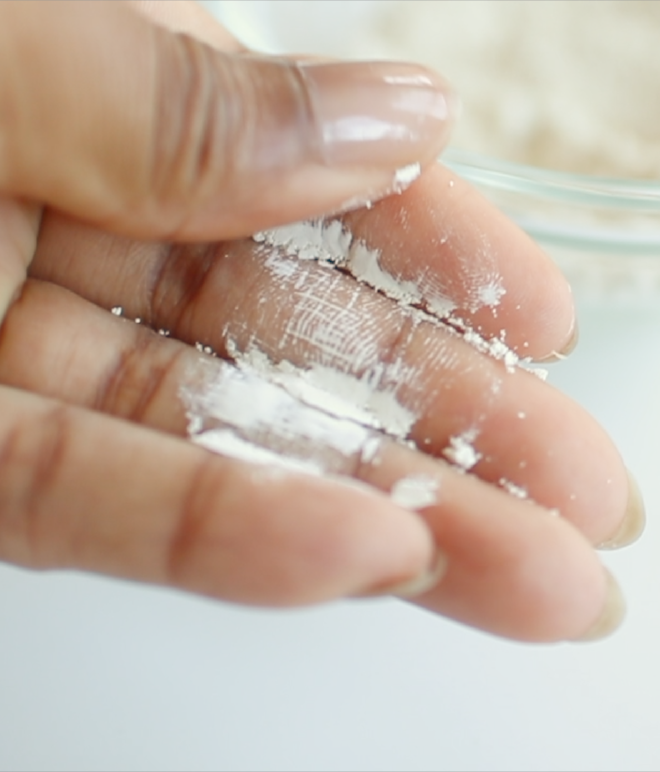 What can you use instead of Colloidal Oatmeal?
Did you think I'd just leave you hanging like that? Whilst I highly recommend you use colloidal oatmeal, it is possible to make this oat lotion with regular oats. We can make a weak "oat milk" by steeping our oats in hot water, then using that as a replacement for the distilled water and colloidal oats in our recipe.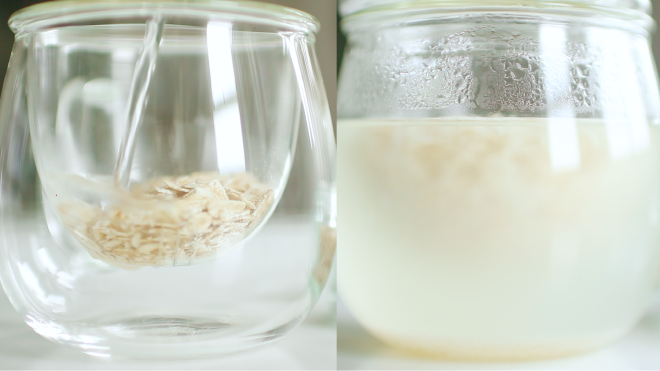 This isn't as concentrated as using colloidal oatmeal but you're still able to get that much-needed moisturising boost from the oats, so it's a great alternative.
Other Ingredients
As always, you can substitute ingredients and customise this recipe for your specific skin needs.
Shea Butter
Shea Butter is a great base for most natural lotions and creams. It's a favourite ingredient in natural skincare that restores the skin's natural barrier, making it a great choice for an intensive moisturiser. However, feel free to substitute this with your favourite butter.
Almond Oil
Almond oil is my go-to oil when I'm looking for an affordable moisturising carrier oil! It's light enough to penetrate the skin whilst still having a little body to it. It makes my lotion feel more substantial. It's completely down to personal preference, but I have a soft spot for almond oil!
Aveeno Dupe?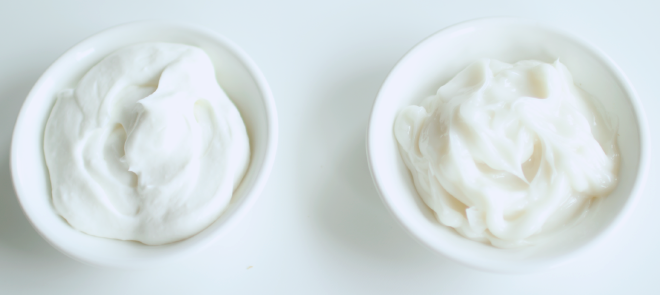 I'll be honest with you… the main inspiration for this lotion was the Aveeno Daily Moisturising Body Lotion. I have very dry skin, and this was the first mainstream affordable lotion marketed at dry & sensitive skin, that didn't have that "fragrance-free-but-obvious-chemical-cocktail" smell! It wasn't overly thick and greasy and actually did a decent job of keeping me moisturised for a few hours. It was far from 24hr protection, but still decent! Unfortunately, the price has been creeping up, and this might just be me, but it's not working as well as it used to!
Initially, I was trying to create an Aveeno lotion dupe or at the very least an all-natural, more affordable alternative that I could use. Little did I know, these humble beginnings would lead to this intensive oat lotion that has completely surpassed its commercial cousin when it comes to keeping my skin moisturised!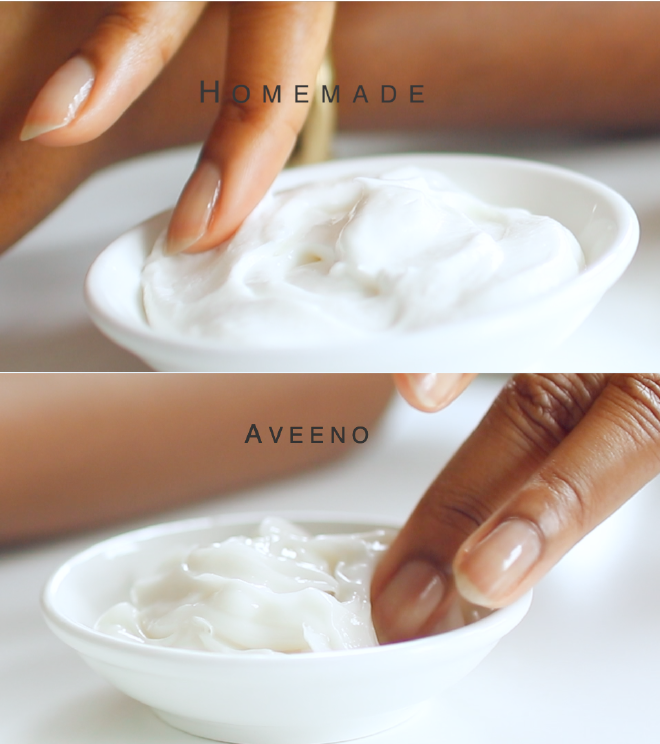 My homemade oat moisturiser is actually able to keep my thirsty skin moisturised over a 12 hour period - that's far longer than the Aveeno lotion could! Not to mention, I prefer the texture and I can actually add a little fragrance to make it feel more like a treat, rather than a treatment!
Try it for yourself and let me know!
Return to top ↑