Restore hair's moisture, shine and bounce - all within one little bar!
Ingredients
Oil phase (heated)
40g Mango Butter
26g Unrefined Avocado Oil
70g BTMS-50 Emulsifying Wax
36g Cetyl Alcohol
6g Stearic Acid
Cool down 1
14g Glycerine
4g Panthenol Powder (vitamin B5)
4g Cationic Guar gum
Cool down 2
2g Optiphen Preservative (INCI: Phenoxyethanol (and) Caprylyl glycol)
2g Vitamin E Oil (antioxidant)
4g Essential Oils (optional - but highly recommended!)
Method
Measure out your oil phase ingredients: Mango Butter, Avocado Oil, BTMS-50, Cetyl Alcohol and Stearic Acid
Combine the above ingredients in a heat proof bowl and gently melt over a low heat using a double boiler or bain-marie
While the mixture is melting, measure out cool down 1 ingredients: Glycerine, Panthenol and Guar gum. Combine these in a separate bowl to form a paste
Once the oil phase is completely melted, remove from the heat and immediately mix in the cool down 1 ingredients. Ensure that the mixture is homogenous with no lumps
Allow the mixture to cool but still remain liquid. Add the second cool down ingredients: preservative, Vitamin E oil and any optional essential oils. Please note: the conditioner's temperature should be no higher than 60c (140F) when adding in Optiphen, and below 30c (86F) for other preservatives.
Quickly transfer into silicone moulds and refrigerate for a minimum of 12 hours until set
Remove your conditioner bars from the mould and enjoy!
This recipe is for 200g and makes roughly 2 -3 Conditioner Bars, depending on mould size. To store, wrap bars in parchment paper and place away from sunlight and water. These conditioner bars should last approximately 3 months but can last up to a year if not used. Please see the formula calculator to adjust amounts.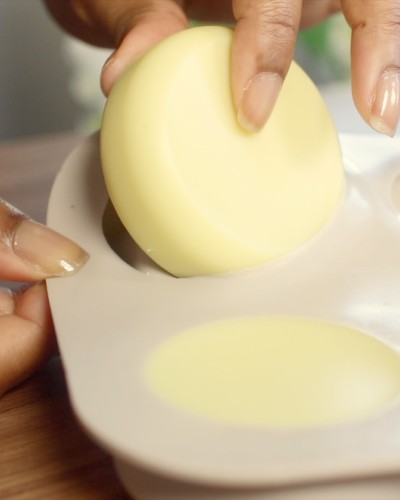 Conditioner? In a bar?? That's actually good?!
I have to admit, I was a little bit skeptical of how good a block of conditioner could be, especially over my prized creamy rinse-out and deep conditioner staples - but I've been converted!
It's the perfect product to have on hand whenever you're travelling, or just want to give your hair a little boost on a hassle free wash day - this is a must try for any lovers of well conditioned hair.
How to make a conditioner bar?
It's simple really - start with a good conditioner! These conditioner bars have all the elements that you'd expect to find in a great natural hair conditioner: moisture, slip, hydration and thickness. But let's breakdown the individual elements that make these conditioner bars so incredible for all hair types.
Oils & butters
Emollients are the foundation of a good conditioner, and these bars are no exception. This formula delivers an ultimate moisture combo by pairing up light but creamy mango but with the nutrient-packed hair boosting avocado oil. They work together to restores hair's elasticity, whilst leaving it moisturised and sealed.
Fast acting, potent oils and butters are the way to go so if you'd like to customise this recipe, I recommend looking at the absorption time of any substitutions.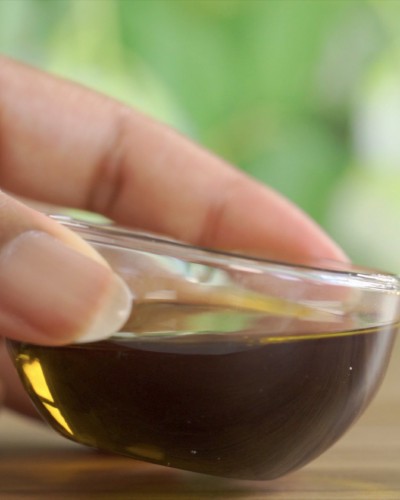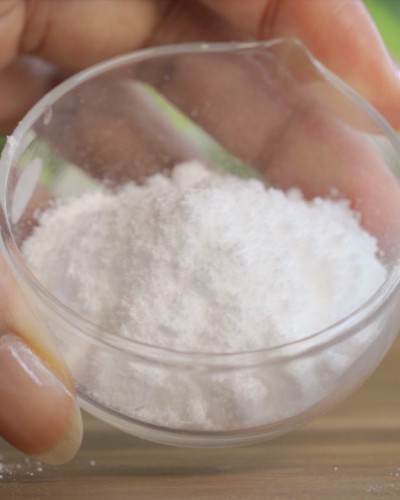 Hydration
Lotion bars are great for providing moisture but they're not often known for their hydrating qualities, but these conditioner bars are no ordinary lotion bar! Panthenol (Vitamin B5) and glycerine are powerful humectants that make use of water in the surrounding environment by drawing moisture and pumping it into your hair. The best part is, these ingredients are activated once the conditioner bar gets wet - so not only is your hair left moisturised, but it also gets an extra hit of hydration.
Conditioning & slip
Conditioning and moisturising aren't actually the same thing! That signature silky-almost-slippery feeling that conditioners are known for is essential to their effectiveness. For that we need more than just oils and butters, and that's were the BTMS and guar gum come in.
BTMS (behentrimonium methosulfate) is an conditioning emulsifying wax that give the signature "slip" we've come to expect from conditioners. It coats the surface of each strand, providing lubrication that helps with detangling and restoring shine and manageability. In addition to that,
cationic guar gum
has natural anti-static properties, that further lays down the cuticle layer of your hair resulting in noticeably softer, shinier and less frizzy hair. These provide visible results and make this one of the best conditioning bars you can make!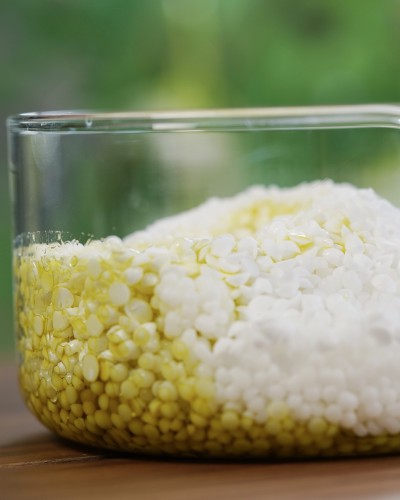 How to use conditioner bars
There's no right way to use conditioner bars, but there are a few tricks that I learnt from trial and error. First off this is meant as an alternative to rinse out conditioners, rather than their more intensive deep conditioner cousin. It will provide your hair with instant moisture and shine but for a deep treatment, I'd recommending following this up with a conventional deep conditioner or hair mask.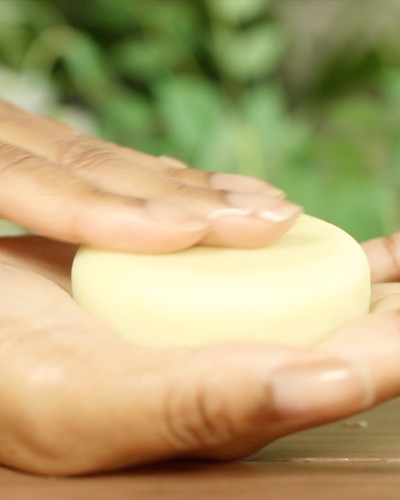 Apply after the shampoo stage to damp rather than soaking wet hair.
Using wet hands, rub the conditioner bar between your palms until the conditioner starts to melt and you've collected a good amount
Apply to your hair in sections, working from the ends all the way up to the roots
For a thicker, creamier consistency use minimal water raking the conditioner through your hair.
For a lighter conditioner, dilute by adding more water to your hands or applying conditioner to very wet hair
As with normal conditioners, I'd recommend leaving this in your hair for 3 - 5 minutes before rinsing out thoroughly
How to store conditioner bars?
To prolong the life of your conditioner bars, I recommend storing them in parchment paper away from direct sunlight. If these bars are used with water (whilst washing hair) they need to be completely dry before storing. Whilst the preservative provides good protection from moulding - products that are regularly exposed to water are at a higher risk of developing mould, bacteria and fungi. To prevent this, use smaller moulds that produce bars that can be used within a couple months.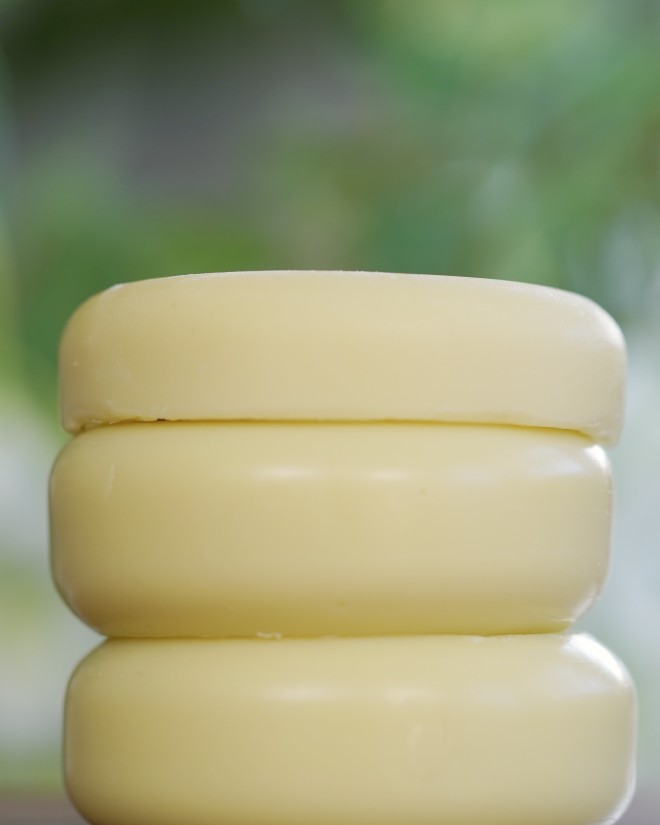 Return to top ↑