Recipe
Water Phase
95g Distilled Water
20g Aloe Vera Concentrate
4g Glycerine
1g Xanthan Gum
Oil Phase
40g Shea Butter
20g Avocado Oil
16g Emulsifying Wax NF
4g Cetearyl Alcohol
Cool Down
2g Optiphen Plus (Preservative)
2g Vitamin E Oil (Antioxidant)
2g Essential Oil (Optional Fragrance)
Method
Measure out your water phase ingredients: Distilled Water, Aloe Vera Concentrate, Glycerine and Xanthan Gum, as well as your oil phase ingredients: Shea Butter, Avocado Oil, Emulsifying Wax NF and Cetearyl Alcohol.
Gently melt both phases in separate heatproof containers over low heat using a double boiler or bain-marie.
Once melted and no solids remain, pour the molten oil phase into the water phase and immediately blend with an immersion blender.
Due to the high oil content, it shouldn't take long to emulsify and the mixture should become homogenous after about a minute of blending. Continue to blend routinely until the mixture thickens and starts to resemble a thick cream. Leave to cool to room temperature before moving on to the cool down stage.
Measure out your cool down ingredients: Optiphen plus (or your broad-spectrum preservative of choice), Vitamin E Oil and any Essential or Fragrance oils you'd like to use.
Add the cool down ingredients to your emulsified body butter and use a hand whisk to ensure that they are fully incorporated.
Store your emulsified body butter in a tub-style container or jar, away from direct sunlight.
This recipe makes 200g of body butter, and will last for approximately 6 months. See the interactive formula to customise this recipe.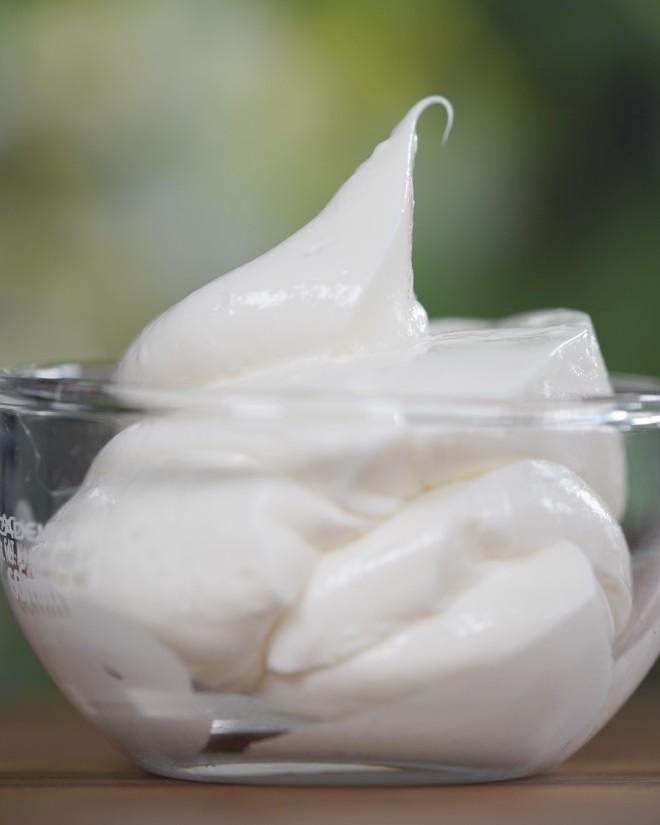 What's so great about emulsified body butters?
If you're a fan of the simplicity of natural body butters, then you might consider water, gums, preservatives, fatty alcohols and emulsifiers unwelcome additions to a body butter. Afterall, why needlessly complicated things? An emulsified body butter's appeal lies not in its ever-expanding ingredient list, but rather how those late additions provide an undeniably luxurious feeling on the skin.
There's no denying the rich, thick and signature "heavy" application of body butters isn't for everyone. In fact, most relegate body butters to the winter months or reserve them only for drier areas of skin. But it's also true that it's virtually impossible to get the same intensive moisturisation from a regular cream.
Emulsified body butters are designed to replicate the best parts of body butters, but sand off some of the rough corners when it comes to application. The water is at an extremely low concentration when compared to traditional creams and lotions.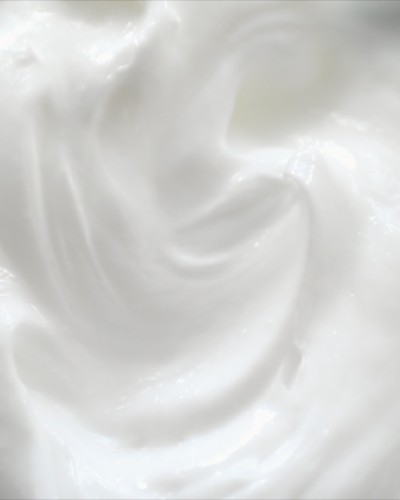 In addition to providing hydration - the water's primary purpose is as a vehicle to help the skin better absorb all the nutrients in the body butter. Even in their whipped state, body butters will also take a little time to sink into the skin. However, with emulsified body butters, the faster absorption cuts down on the "greasy" feeling you get with anhydrous products. Rather than melting into an oil, it's application is closer to a cream that's much more readily absorbed, so very little residue is left on the surface of the skin.
What's in emulsified body butters?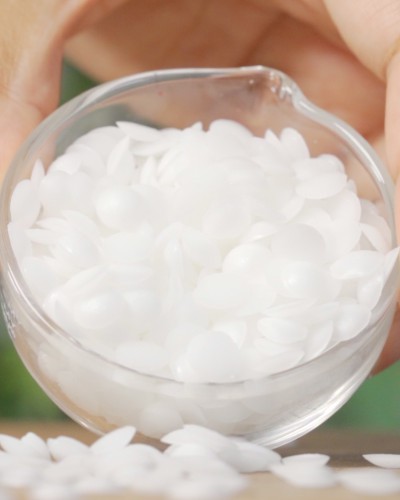 It's important to know exactly what's in your skincare so that you can feel confident when applying it.
Below is a brief breakdown on the core elements in this emulsified body butter formula. This is a more natural version of my previous DIY The Body Shop's Body Butter recipe.
Emulsifier: true to its name sake, emulsifying waxes work best in emulsified body butter formulas as not only do they mix the oil and water elements, but they thicken the emulsion to retain that classic body butter texture
Water: probably the most surprising ingredient, considering that body butters are known for being anhydrous.
Gum: this is necessary as both a thickener and stabiliser. As emulsified body butters have a high oil content, gums are necessary to bind the ingredients together to prevent separation.
Fatty alcohol: much like with gums, the purpose of this ingredient is two-fold. It works as both a co-emulsifier but also a thickener and feel enhancer
Preservative: non-negotiable!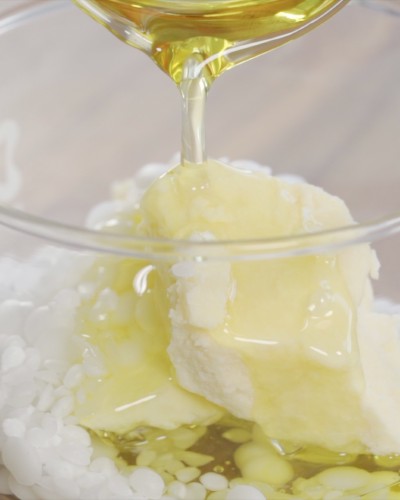 Due to the inclusion of water and other water-soluble ingredients, all emulsified body butters require a broad-spectrum preservative
How to make emulsified body butters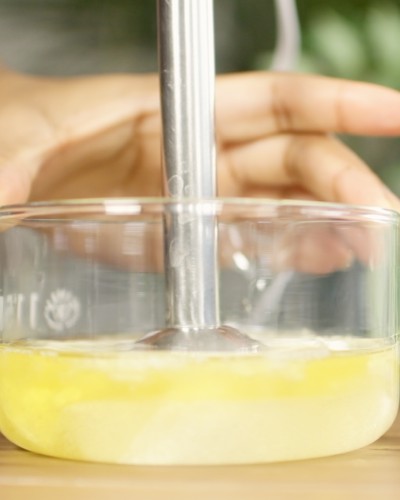 Despite both being body butters, emulsified body butters and whipped body butters differ significantly in how they're made. Emulsified body butters come together in two parts: a water phase and an oil phase (much like a traditional lotion). They are heated separately then blended together rather than whipped.
Traditional body butters are "all-in-one" recipes where the ingredients are heated together, then whipped once cooled, see my whipped shea body butter tutorial for more details.
You would think that this would result in vastly different textures but whether emulsified or whipped, body butters retain their signature consistency. The high oil content in emulsified body butter keeps the formula thick and indulgent, and your final body butter will have a velvety soft whipped cream texture.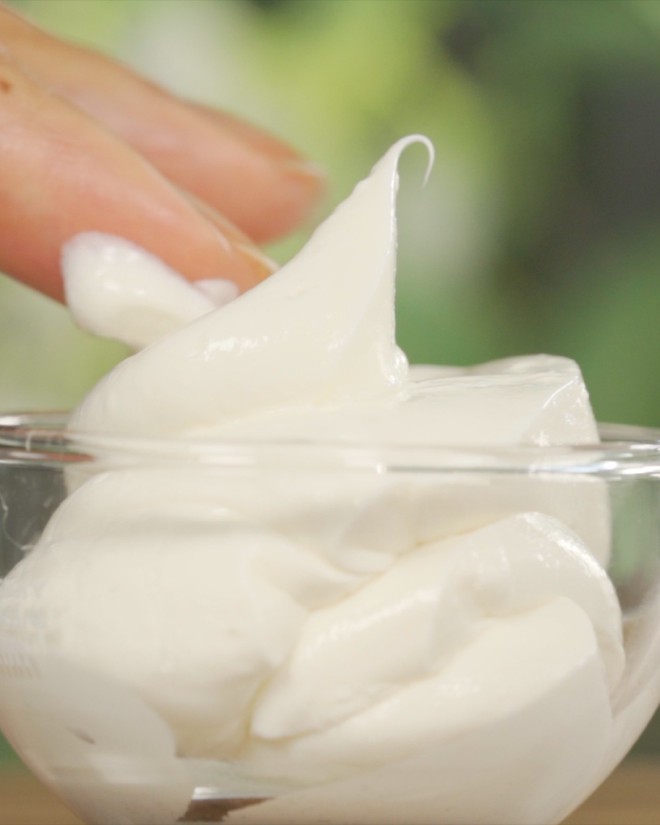 Return to top ↑