Recipe
Water Phase
161g Distilled Water
4g Glycerine
1g Xanthan Gum
Oil Phase
20g Fractionated Coconut Oil
4g Jojoba Oil
10g Vegetal Emulsifying Wax [Cetearyl Glucoside (and) Cetearyl Alcohol]
Cool Down
2g Optiphen (Preservative)
1g Vitamin E Oil (Antioxidant)
2g Essential Oils (Optional Fragrance)
Method
Measure out your water phase ingredients: Distilled Water, Glycerine and Xanthan Gum, as well as your oil phase ingredients: Fractionated Coconut Oil, Jojoba Oil and Vegetal emulsifying wax.
Prepare your water phase ingredients by first combining the Glycerine and Xanthan to form a thick paste, then whisk this pace into the distilled water. The water solution should slightly thicken in a few minutes.
Gently melt both phases in separate heat-proof containers over a low heat using either a bain-marie or double boiler method.
Once both phases are liquid and heated through, pour the molten oil phase into the water phase. Immediately blend with an immersion blender until the mixture becomes creamy and homogenous. It will first have the texture of double cream but as it cools it will thicken and resemble yogurt.
When the yogurt lotion has cooled to room temperature, measure out your cool down ingredients: Optiphen, Vitamin E Oil and any Essential or Fragrance Oils. Please note you can substitute these ingredients for your broad-spectrum preservative, antioxidant and fragrance of choice.
Mix thoroughly then transfer your body yogurt into a tub-style or pump container. Store at room temperature, away from direct sunlight.
This recipe makes 200g of Natural Body Yogurt, and will last for approximately 3 months. See the interactive formula to customise this recipe.
What is body yogurt?
So if there are creams, milks and butters - it stands to reason there would be yogurts right? I promise I'm not making this up - body yogurts are a real product!
Sitting somewhere between a conventional cream and a runny lotion, yogurt moisturisers are fast becoming a staple amongst skincare enthusiasts. But what exactly is body yogurt and how do you make it? Well… let's get into it.
Body yogurts, like their name suggest, mimic the texture and appearance of yogurt. Consider yogurt moisturisers, like "low fat creams".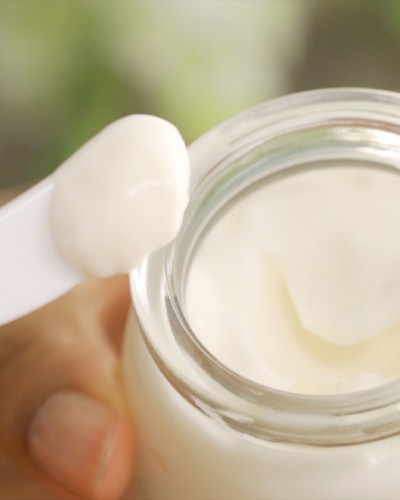 Known for their signature "wobble" and almost jelly-like consistency, yogurts glide across your skin feeling silky to the touch. They're considered lightweight moisturisers, so for anyone who despises heavy or dare I say greasy moisturisers, this is another product you should consider making.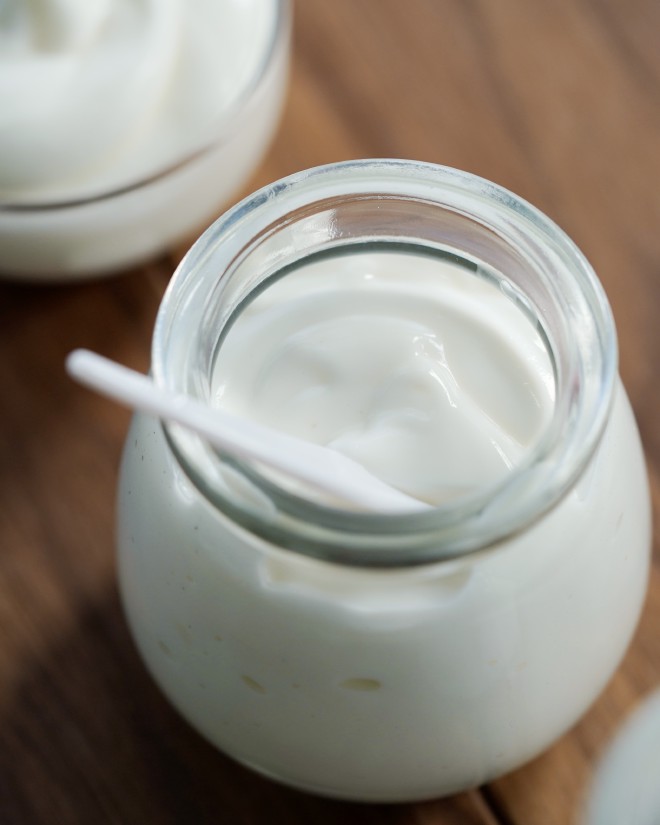 Body yogurt vs body lotion
A body yogurt is like a thicker, but more lightweight lotion. They feel rich and decadent on the skin, but aren't as heavy as other moisturisers. When compared to lotions, body yogurts also absorb faster into the skin, as they contain a larger amount of hydrating elements.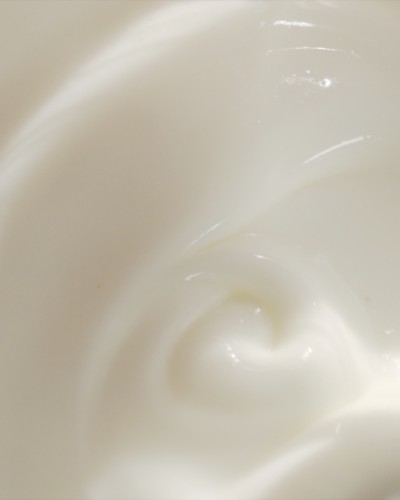 But body yogurts have more "body" (pun intended) so they work best in tub-style containers as opposed to lotions that usually come in bottles.
Although at first glance they might resemble more intensive moisturisers like creams or body butters. Yogurts are actually light lotions that are geared towards normal to oily skin, unless combined with another more moisturising product. Much like with milk lotions, body yogurts are light, viscous moisturisers with a signature texture that makes them unique from regular lotions.
How to make body yogurt
To obtain a yogurt texture, special care has to be paid attention to the thickeners used in the lotion formula. As the above recipe is a simplified version of body yogurt - I've opted to rely on accessible ingredients like xanthan gum and vegetal emulsifying wax to get the right consistency.
Xanthan gum
Xanthan Gum can be a tricky natural thickener to work with but as long as you stick to using small amounts - you'll be just fine! In fact, this recipe only uses 0.5% which is enough to create a slightly gummy "wobble" that is signature to body yogurts.
I'm using clear xanthan gum which is also known as "cosmetic-grade" xanthan, it's generally a more concentrated and refined xanthan that reliably thickens cosmetics.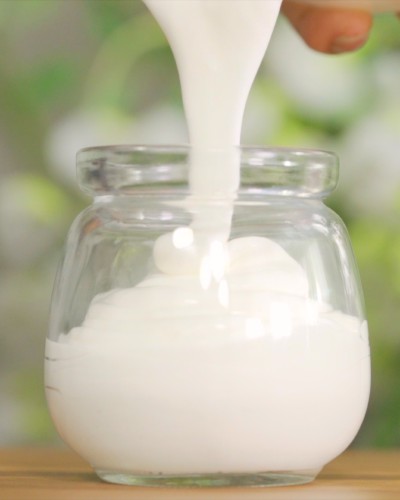 This is different from "food-grade" xanthan gum that you'll find in supermarkets. Depending on the quality of xanthan gum you use, the more inconsistent your results will be.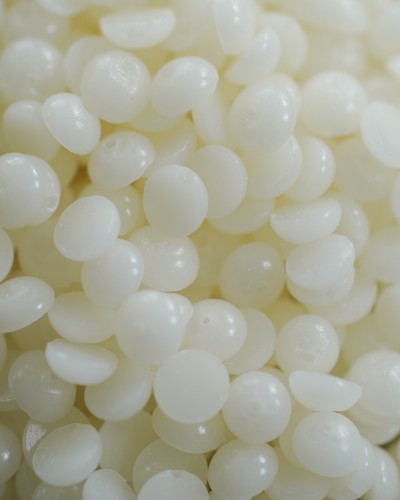 Vegetal Emulsifying wax
Vegetal emulsifier is natural emulsifying wax derived from corn and coconuts.
It's a combination of cetearyl glucoside and cetearyl alcohol, and goes by a variety of different names including Montanov 68, depending on where it's being sold.
To ensure that you have the right emulsifying wax, make sure to check the INCI [Cetearyl Glucoside (and) Cetearyl Alcohol].
Generally speaking, emulsifying waxes can be substituted for one another as long as they work under the same conditions and you take into consideration they're respective concentrations. However, when it comes to using emulsifiers that have specific characteristics, such as BTMS which is a conditioning emulsifying wax, it's harder to substitute it with general emulsifiers such as Olivem 1000, PolarWax or Emulsifying Wax NF. The same is true for Vegetal in this case.
It doesn't thicken emulsions as much as the above mentioned emulsifying waxes, and it has a noticeable "spreadability" that makes it a great choice for use in this body yogurt formula. It contains a high amount of cetearyl alcohol that helps with "slip", so if you're looking for a suitable alternative, I'd try using emulsifying waxes that contain cetearyl alcohol.
And with that we have an easy DIY body yogurt that comes together like a basic lotion! This body yogurt has such a unique texture, it's definitely worth trying out if you're a skincare lover.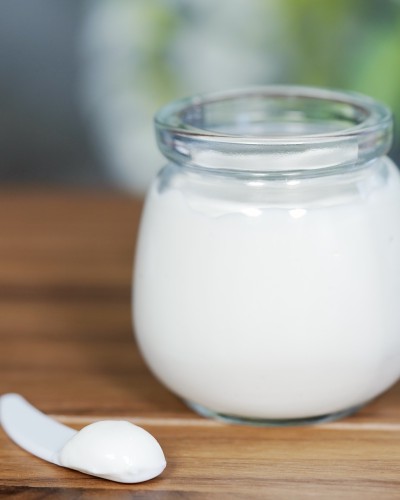 Can't get enough of those dairy inspired lotions? Try making this ultra-lightweight body milk!
Return to top ↑